第四章
History of Izumo, Chapter 4
Yamata no Orochi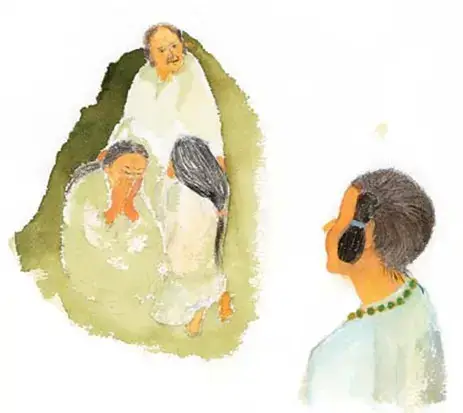 The story of the monster that attacked the Land of Izumo, Yamata no Orochi...
Susanoo no Mikoto fights to rescue a young woman
There was a God called Susanoo no Mikoto. Susanoo committed many crimes in the Land of Heaven, which was ruled by his older sister Amaterasu Omikami, such as destroying the edges between rice fields, defiling the sacred palace and many other crimes. At first, Amaterasu defended him, but she eventually grew fearful and hid herself in the cavern of Amanoiwayado. Due to this, the world fell into darkness, and many disasters happened, which caused the gods of heaven to banish Susanoo from their land.
Banished from heaven, Susanoo descended onto the Land of Izumo near the banks of the Hinokawa River, at a place called Torikami. At that time, a pair of chopsticks washed down the stream, so he said, "There must be people living upstream," and went upstream in search of them. After a while, he met an old man and an old woman who were holding their daughter in their arms and crying.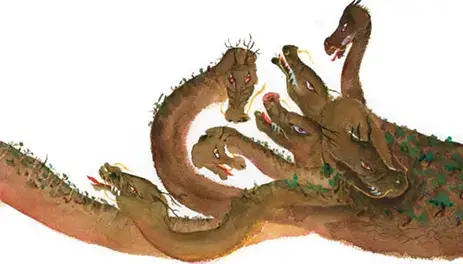 When Susanoo asked, "Why are you people crying like this?" they replied, "We had eight daughters, but Yamata no Orochi came and ate one of them each year. Now, that time of the year is upon us again, so we can only weep."
"What kind of monster is that Yamata no Orochi?"
"He is a giant snake with large red eyes, eight heads and eight tails in one single body. On his body grows not only moss, but also cedar and cypress trees. He is long enough to stretch over eight valleys and surpass eight mountains. His belly is always swollen and dripping with blood."
Hearing this, Susanoo then said,
"Let me marry your daughter. In exchange, I'll exterminate the giant snake for you."
"I'm afraid we don't even know your name."
"I'm Amaterasu's younger brother, called Susanoo."
"We are humbly in your debt. Please marry our daughter."
Susanoo then immediately turned their daughter, Kushinadahime, into a comb, which he stuck into his hair. He then said to the old couple: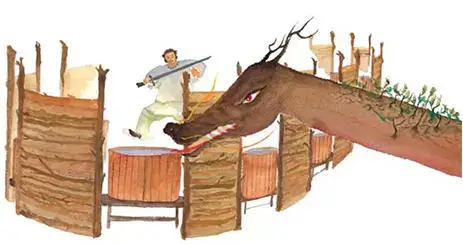 "I want you to make me lots of strong sake. Also, build a fence with eight gates, each with a tub which you'll fill to the brim with the strong sake."
The old couple prepared just as they have been told and waited in suspense for the giant snake to show up.
Before long, a thunderous rumbling as if that of a mountain moving could be heard as Yamata no Orochi appeared. He immediately stuck his eight heads through the gates and drank the sake.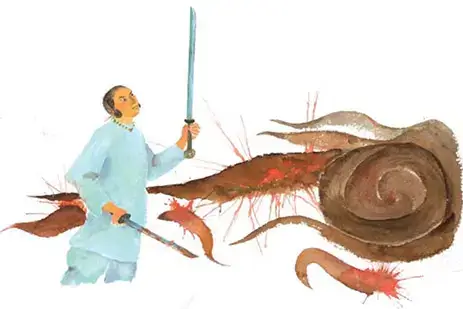 The giant snake drunk itself into a stupor, falling asleep. Looking at its form, it was unmistakably a gigantic snake. Just in time, Susanoo drew the sword on his waist, and cut Orochi into pieces. The Hinokawa River was dyed bright red with Orochi's blood as it flowed away.
When Susanoo cut through the tail, his sword's blade was chipped. Thinking this strange, he ripped open the tail, and a mighty sword came out. As this was a mysterious and miraculous thing, he decided to give the sword to Amaterasu. And thus, Susanoo married Kushinadahime.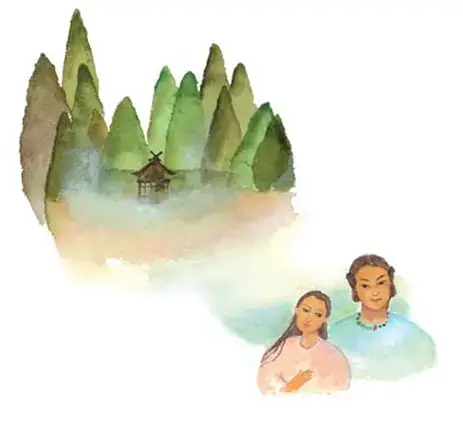 After that, the two of them started to look for a place to build a palace within the lands of Izumo. As they came to a certain place, Susanoo said, "I feel very refreshed and at ease after coming here." So, they built a palace and started living there. Nowadays people call that place Suga.