第五章
History of Izumo, Chapter 5
Okuninushi no Mikoto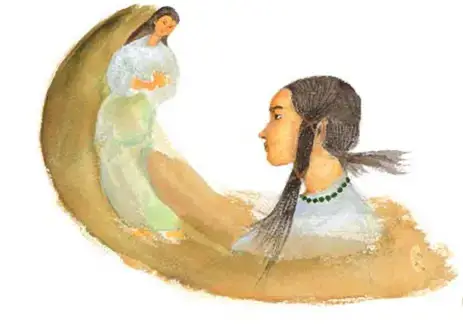 The story of the god who fell in love with Susanoo's daughter:
Okuninushi no Mikoto, who passed the trials to rule over the Land of Izumo...
There was a god called Okuninushi who used to be called Oanamuchi no Mikoto. This is the story of how he earned the name Okuninushi. Oanamuchi was put in danger time and time again by his siblings. Because of this, Oanamuchi ran away to the Land of Trees, to the palace of someone called Oyabiko, but even there his siblings came chasing after him. As she helped Oanamuchi escape, Oyabiko said:
"Go to Ne no Kuni (Land of Death), where you'll find Susanoo."
Oanamuchi then ran to the Land of Death and met Suserihime, who was Susanoo's daughter. As Oanamuchi and Suserihime's eyes met, they began to fall for each other. Suserihime had Oanamuchi meet her father, Susanoo.
"Such a splendid person came to visit."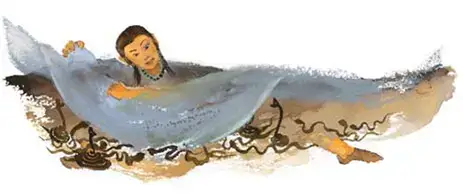 Susanoo decided to test Oanamuchi. Firstly, Susanoo had him sleep in the Snake Room. In this room, snakes swarmed around, on the brink of biting Oanamuchi. Worried for him, Suserihime went and handed him the shawl from her shoulders, saying:
"If the snakes seem about to bite you, wave this hire shawl three times."
When Oanamuchi did as he had been told, the snakes stopped moving and did not bite him.
So Oanamuchi could leave the Snake Room unharmed.
Next, Susanoo had Oanamuchi go into the Room of Centipedes and Wasps. There were many centipedes and wasps there on the verge of attacking him. Suserihime took the other shawl she had on her shoulders and, giving it to him, said:
"If the centipedes and wasps begin to attack you, take this hire shawl and wave it three times."
When he did as he was told, the centipedes and wasps became still and didn't attack him. Thus, Oanamuchi could leave the Room of Centipedes and Wasps unharmed.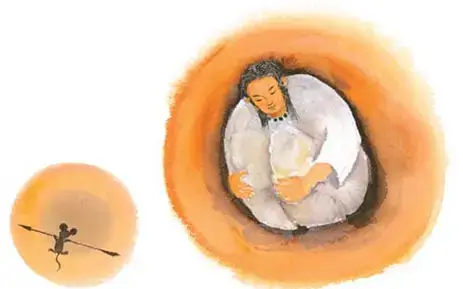 After that, Susanoo brought Oanamuchi to a large field. Susanoo shot a buzzing arrow, ordering him to go and find it. Just as Oanamuchi was about to enter the fields, Susanoo set them on fire, surrounding the plain with a mighty blaze. Oanamuchi was quickly enclosed on all sides by flames.
Then a single mouse came out and said,
"Inside is big and wide, outside is teeny-tiny." (He was talking about a hole in the ground)
"I see, that's what I should do."
Oanamuchi stepped on the ground, opening a hidey hole that he fell into..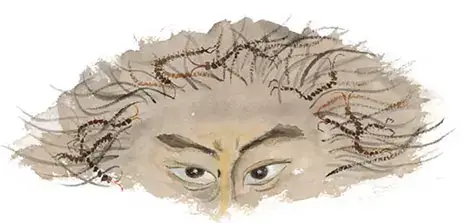 The fire passed and he was saved. After a while, the mouse went to search for the buzzing arrow and brought it to him. But strangely, the feathers on the arrow were gone. Baby mice had eaten them up.
After the arrow was returned, Susanoo took Oanamuchi back to his home and gave him another order as they entered a gigantic room together:
"Take the lice from my hair."
Oanamuchi did as he was told and took a peek at Susanoo's head. Doing so, he found not lice, but instead many centipedes.
Suserihime then brought fruit from the muku tree and red earth and gave them to Ooanamuchi. She then whispered in his ear:
"Bite this fruit and hold some red earth in your mouth, then spit them out together. My father should think that you are getting rid of the centipedes by biting them one by one."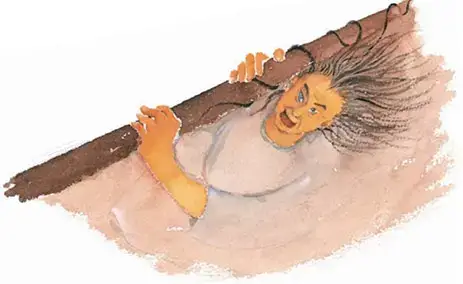 It was just like Suserihime said. Susanoo thought, "The way he chews and spits out each centipede, what a charming fellow!" and feeling at ease, he fell asleep.
"Now's our chance, let's run away together!"
Oanamuchi tied Susanoo's long hair to the wooden beams around the room, and blocked the house's door with a huge boulder.
After that, he stole Susanoo's sword, bow and arrow, and koto (harp) and ran away, carrying Suserihime on his back.
As he ran, the koto brushed the trees, making the ground shake and echo.
Susanoo woke up and pulled down the frame of the room as he stood up.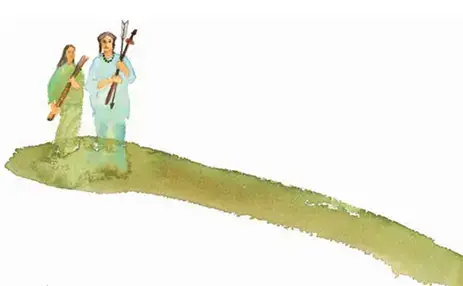 While Susanoo was unbinding his hair from the beams, the two ran off far away.
Susanoo chased them up to Yomotsu Hirasaka (the boundary between this world and the other world), but they were running away much further. Susanoo yelled after them:
"Use the sword, arrow & bow to chase away your siblings. Then take the name of Okuninushi, go together with Suserihime to the bottom of Mt. Uka and build up a palace to live, with thick pillars tall enough to reach the sky."
Doing as he was told, it came to pass that Oanamuchi, who became Okuninushi no Mikoto, chased away his bad-natured siblings and created a new land.