第十話
Experience Vol.10
Izumo by Train: A Summer Day's Journey
Western Japan's humid summer can be quite hot, but the extremes of the seasons remind us of the special activities, rituals, and flavors associated with each. Izumo's air-conditioned attractions, delicious summer fruits, and beautiful beaches helped us enjoy a day trip around the city during the dog days of summer. Learn more about what made our trip so special.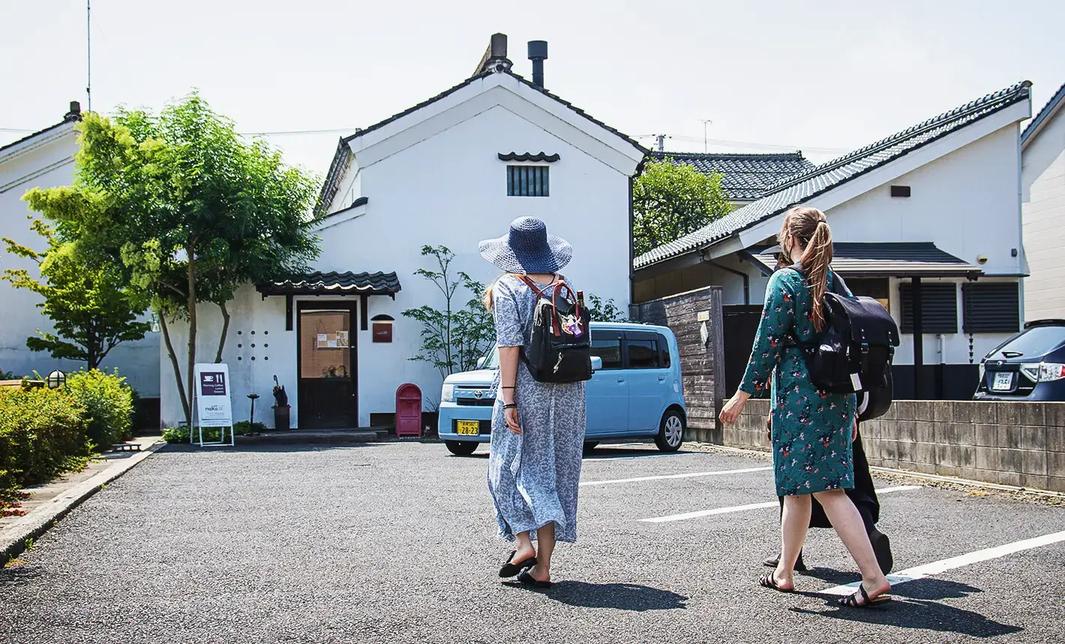 Bags packed with water, sunscreen, hats, swimsuits, fans, and parasols, we met for lunch at Cafe Nakakura. Located in the central Imaichi district, Cafe Nakakura is walking distance from the north side of Izumo-shi Station, on a street off the side of a covered shopping arcade. A vintage red postbox just by the entrance hints at a nostalgic theme.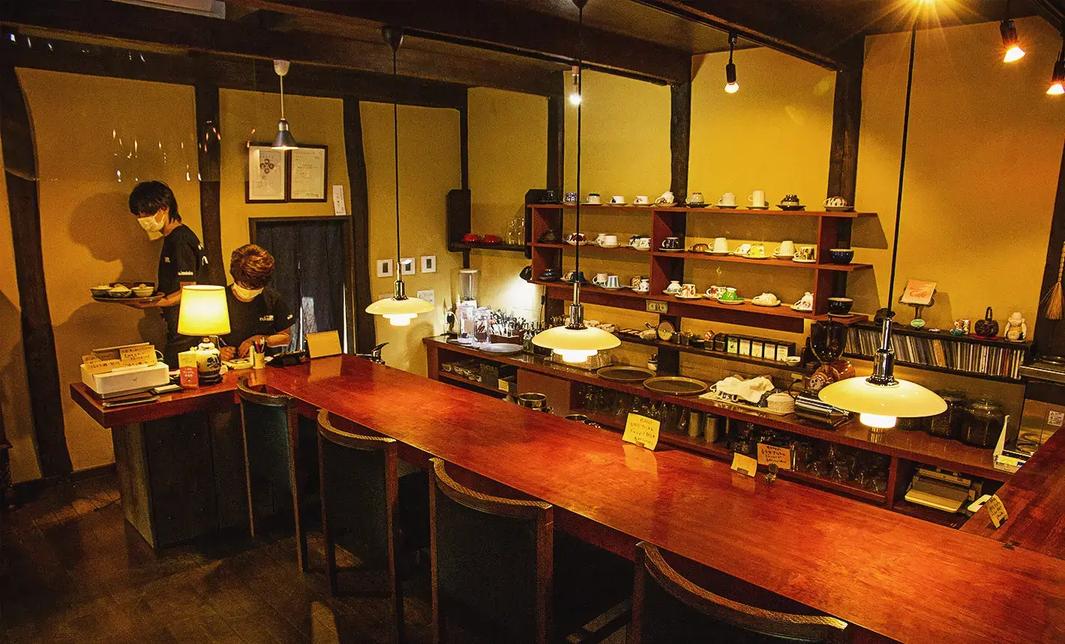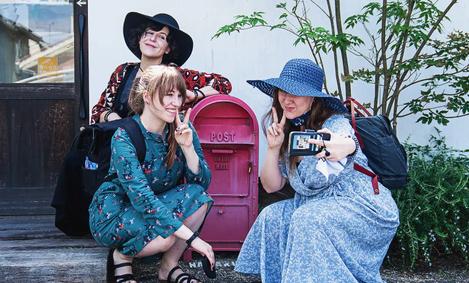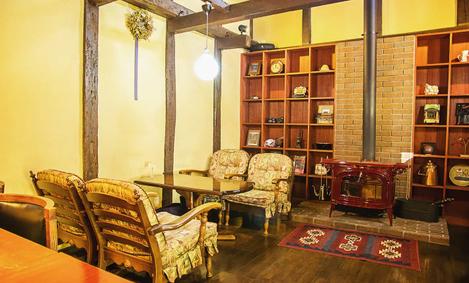 Stepping inside the pleasantly cool cafe, we chose a table in the front room, just next to a window looking out onto the hedges dotted with yellow flowers. Shelves stuffed with books and magazines, antique cameras on a ledge, and other curios line the wall tastefully. Further inside is a room with counter seating in addition to the cushy green chairs available throughout the restaurant. If you choose to sit at the counter, you will have a great view of the cafe's collection of teacups and coffee sets displayed on the back wall.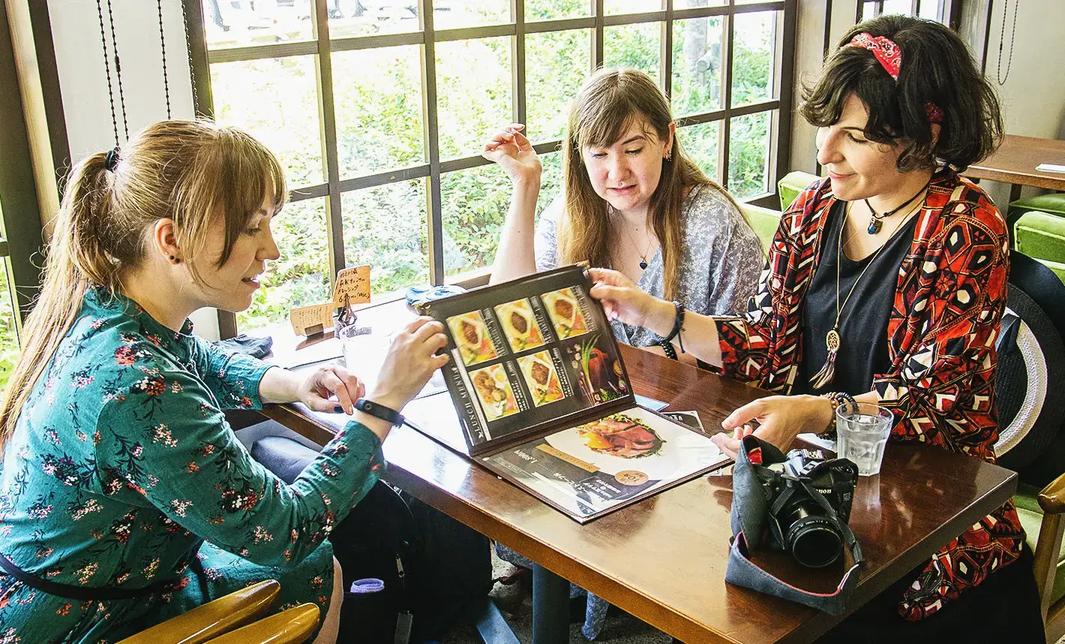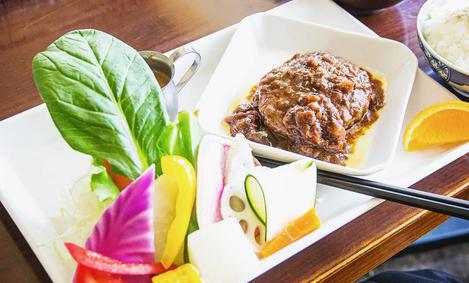 We all opted for hamburg lunch sets (miso for Camila, garlic for Tanja, and mustard sauce for Jill!), which come with miso soup, rice topped with dried shaved kombu, and salad. This place is known for their fluffy chiffon cake, and the beautifully assembled salads that accompany every meal option.
Jill: Let's face it: salads in Japan can be disappointing, often just a pile of shredded cabbage. This salad has a cabbage base, but is topped generously with a bouquet of colorful, crisp veggies. It is a visually stunning and refreshing balance to the hot lunch dishes. You can even buy a bottle of the homemade dressing -- though to be honest, with the natural sweetness of the vegetables, I didn't need to use much!
Tanja: I like this place a lot, but seldom visit, because lunchtime tends to be too busy, and they close early. I had Vienna coffee served with fresh whipped cream after lunch, and it was great as usual. I was surprised to see they served my coffee in a Finnish brand cup.
Camila: This was my second time at Nakakura, because, just like Tanja wrote, it is usually very busy. I would strongly recommend making a reservation beforehand, especially if you plan to go on a weekend. The food was great flavor-wise and the quantity was just about right, no more no less.
Cafe Nakakura
689 Naka-machi Imaichi-chō, Izumo-shi, Shimane (MAP)
After lunch, we headed to Izumo-shi Station to catch the train to Nishi-Izumo. It's a five-minute ride that goes by in a flash, but offers a chance to admire the summer scenery of farmers tending to bright green rice fields, and kids on summer break riding their bikes. Our destination here was the botanical garden Hana no Sato.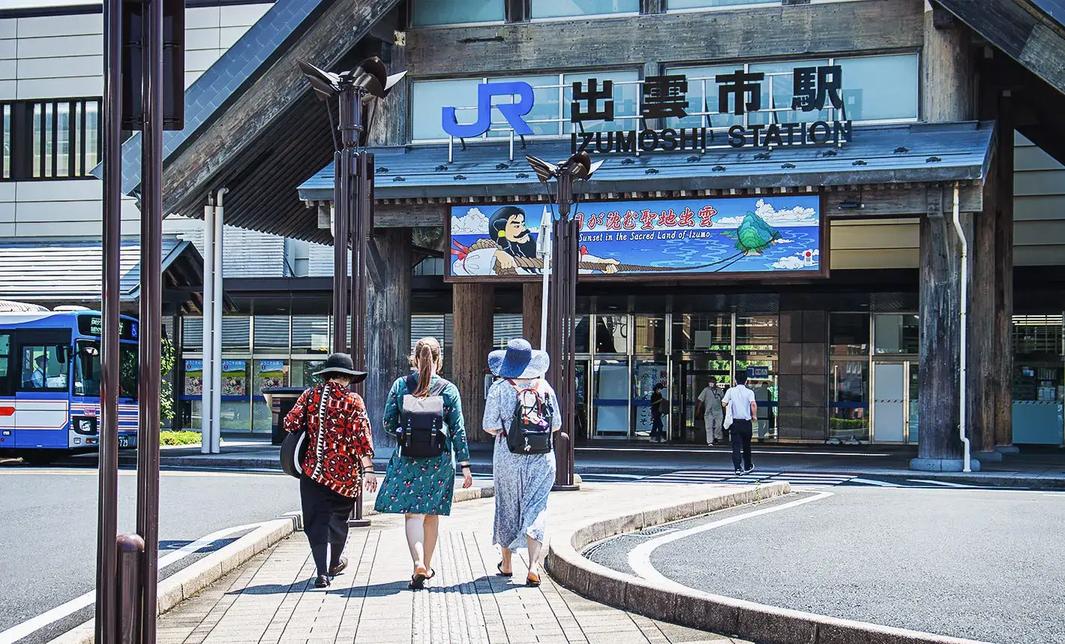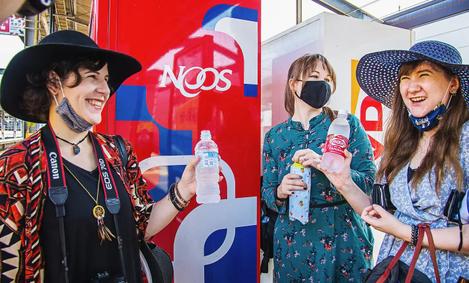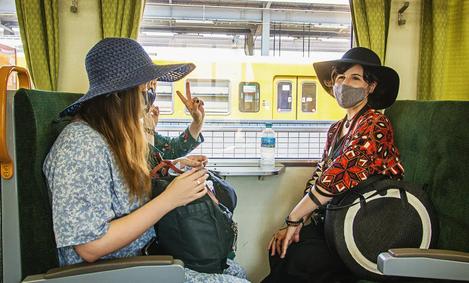 Naturally, a botanical garden is an outdoors activity, but in addition to its vast open-air gardens, Hana no Sato is equipped with a covered, windowed walkway through which a cool breeze blows. The bright sun made it a little difficult to venture out into the vivid stepped flower beds at the center of the garden, but we could enjoy the view just as well from the walkway without worrying about sunburn. On a milder day, the benches and picnic tables around the perimeter of the stepped flower beds would be the perfect place to enjoy a picnic lunch or snack.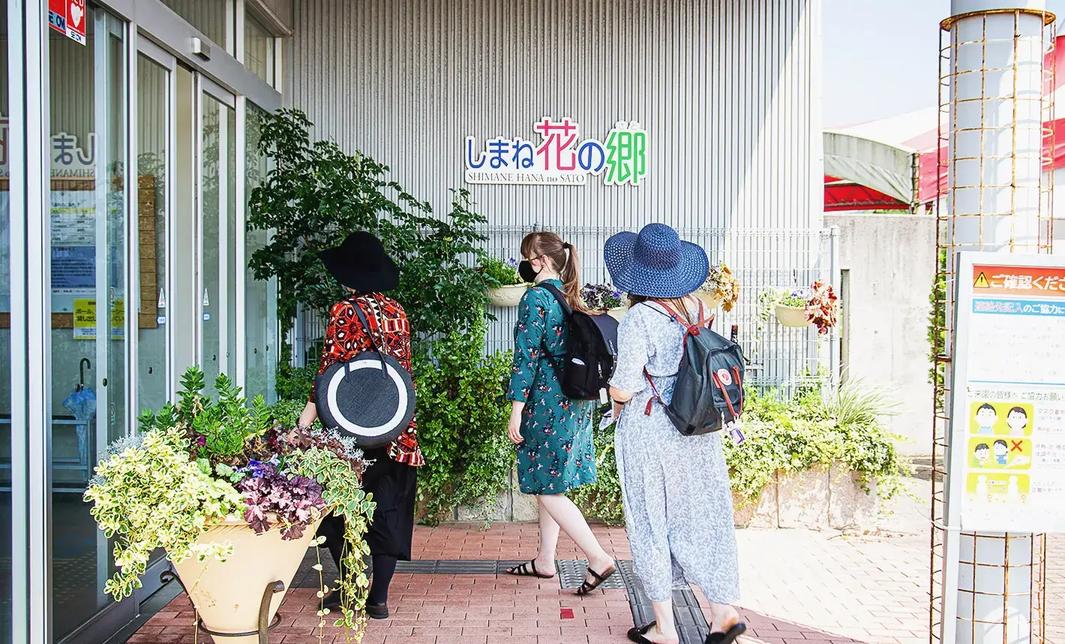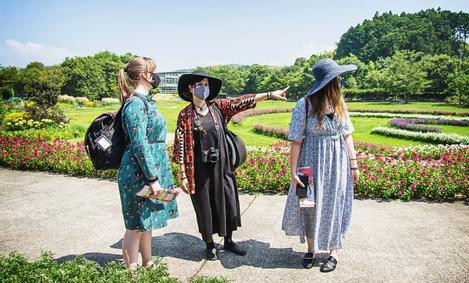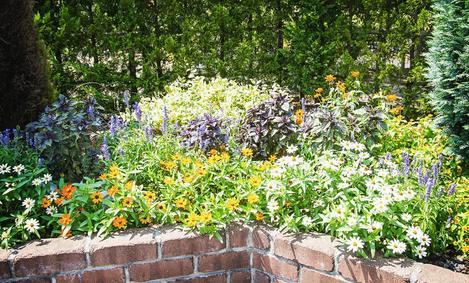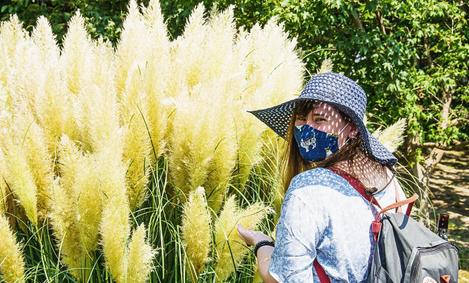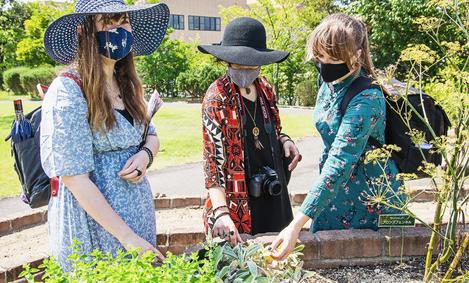 Another section of the garden, the Fureai Hiroba (hands-on plaza), is designed with accessibility in mind, inviting visitors to learn about the plants there through experience. A variety of herb bushes, mainly different species of mint, are furnished with signs inviting you to touch and smell freely.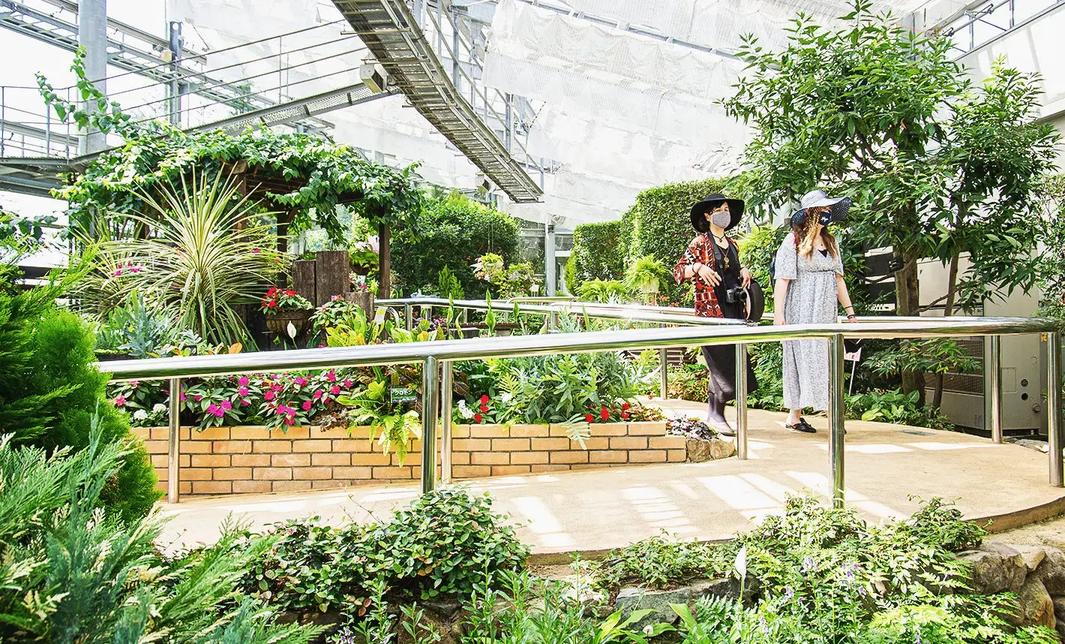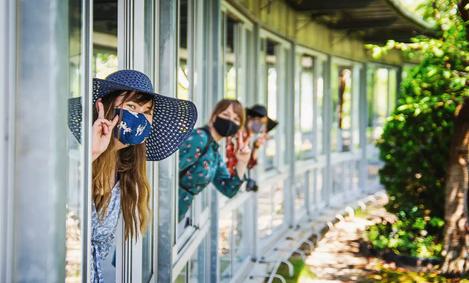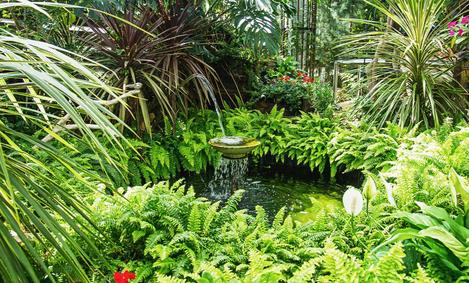 Jill: Just touching the peppermint leaves left a refreshing and pleasant smell on my fingers. There are also leafy plants and flowers of all kinds, each with an interesting and distinct texture.
Tanja: The lamb's ear was my absolute favorite. Soft like, you guessed it, lamb's ear.
Little signs posted in the brick flower beds offer fun facts about each plant, such as its practical uses or the origin of its name. A small tree-lined path beyond the herb and flower beds is labeled Chiisana Mori, the tiny forest. Cicadas trill in the trees, and when you emerge from the path there is a small shaded pagoda, a welcome respite from the bright sun. Being here feels like being a kid on a school field trip.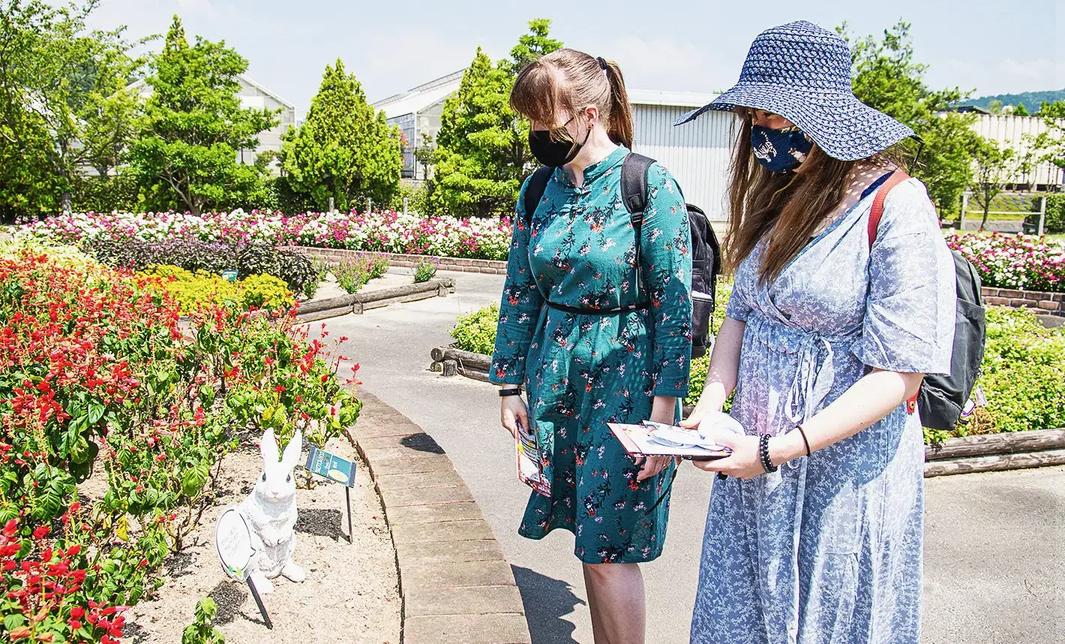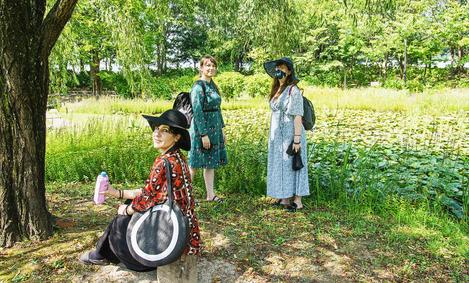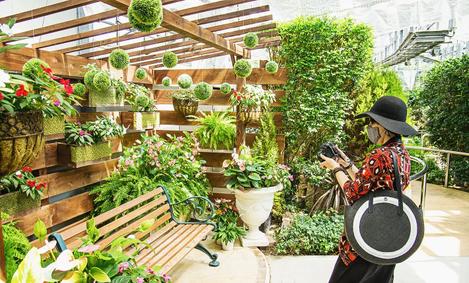 We returned to the covered path, which ends in a glass house filled with a special display of local and seasonal flowers. The air conditioning is especially strong here, and felt amazing as we strolled through slowly.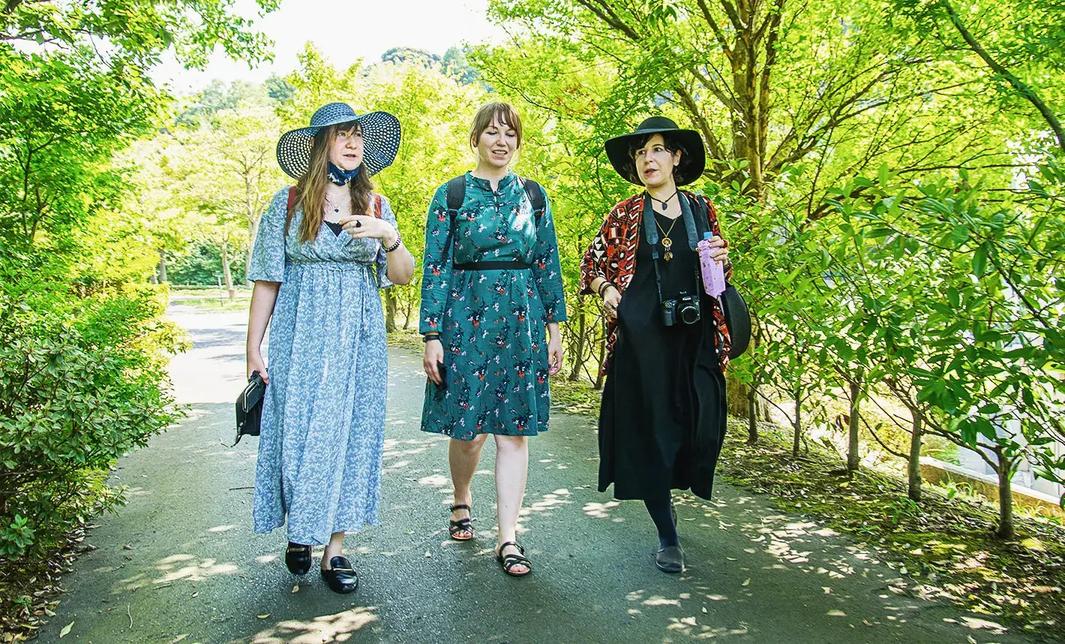 Camila: It was the perfect spot to take a break, since they have rest facilities (restrooms, vending machines, etc.). I liked how the scenery was crafted, and there are even designated photo spots, so visitors can take pictures with a cute background.
2-1101 Nishijin-chō, Izumo-shi, Shimane (MAP)
Finally, we came to an annex where the Izumo Japanese Crested Ibis Observation Gallery is located. This facility is part of the Izumo Japanese Crested Ibis Breeding Center, Izumo City's designated site for distributed breeding of the Japanese crested ibis. The Japanese crested ibis is a species native to east Asia, long thought to have gone extinct due to hunting and the modernization of their breeding environment. After the species was discovered alive in Hanzhong, China (Izumo's Friendship City), Izumo became a distributed breeding site. Along with Sado City in Niigata Prefecture, Izumo City's breeding program aims to promote a geographically distributed and genetically diverse population of these beautiful birds.
Jill: After working for months on translations for the Breeding Center and Observation Gallery, I could not contain my excitement to finally meet the ibises up close! Before we went inside, Tanja kindly reminded me not to react too loudly, as crested ibises are quite delicate and frighten easily. I'm glad she did, because I wanted to squeal in delight when I saw the sweet little birds right next to the glass!
The Observation Gallery is a long, narrow building with a one-way glass corridor that looks into the ibises' habitat. They live in a large mesh enclosure with plenty of space to fly, ponds filled with loaches to feed on, and perches here and there for them to rest. On one side are the chicks, who are sent to be released in the wild at Sado Island once they reach maturity. They didn't look much different from the adults when we saw them, except for their smaller size, and the grayish tint to their feathers. Dipping their red feet into the pond, they stayed closer to the back of their enclosure. The adults, however, were quite close to the viewing area. The glass windows of the Observation Gallery are one way mirrors, so that the birds cannot see inside -- but they can likely detect large movements and bright lights nonetheless. It certainly felt as if they knew we were there, as one bird, "Izumo," seemed to be showing off for us. He stood on one leg next to the pond, dug around in the sand for insects, and strutted about.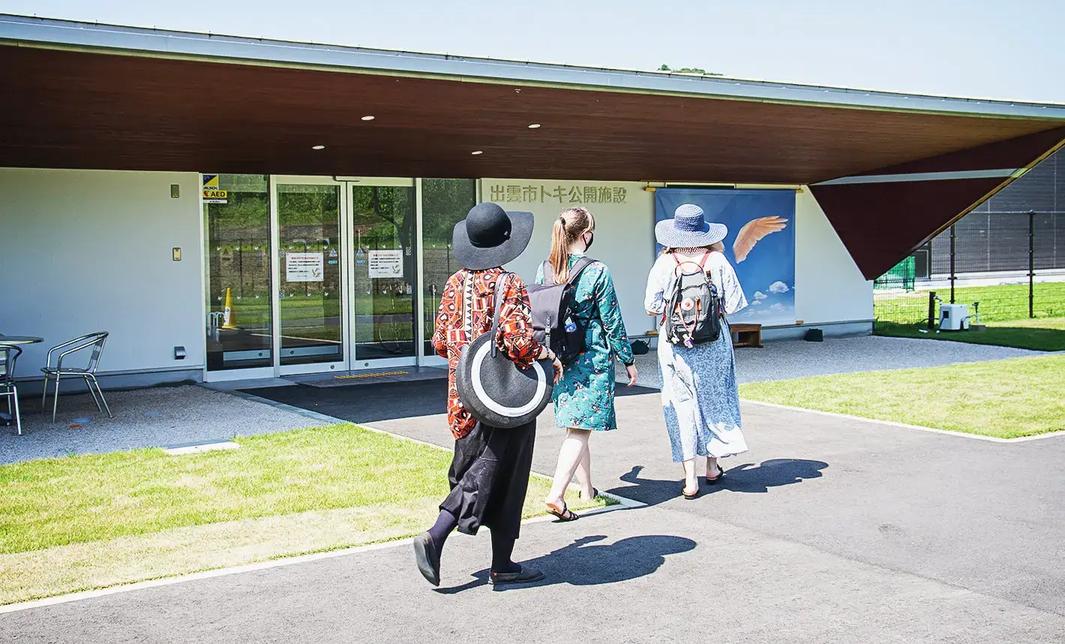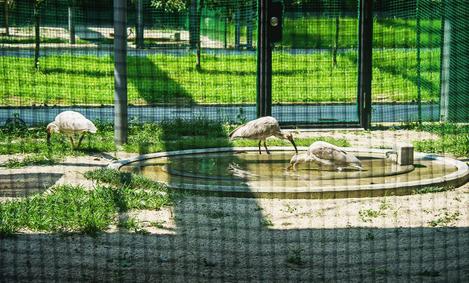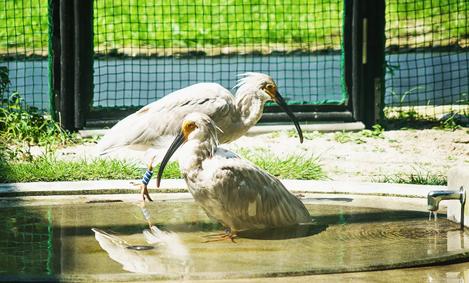 As we observed the ibises, a staff member of the city's Section of Crested Ibis Conservation and Promotion came to greet us and teach us more about the birds. He was incredibly knowledgeable and shared with us more about the birds' personalities. There is Youhan, who is a delicate and cautious shy boy, staying away when visitors fill the Observation Gallery; then there is the very vocal Yuuhi, who is actually just lonely when he squawks through the night. Izumo, who strutted his stuff around the cage, is known for being the most active, and is a dependable "older brother" type, while the newest resident Tsubasa is still slowly gaining his confidence around the other three adult birds. It's impressive how much personality these creatures have in their little bodies.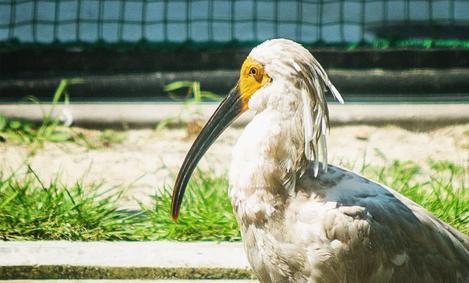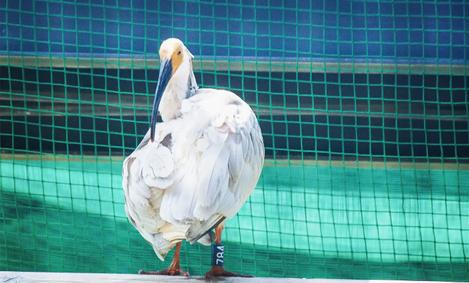 The birds are smaller than expected, with short legs and stout bodies. When they stand on one leg, they look like compact flamingos. The staff member told us that, looking at their red beaks, heads, and legs, it seems like their skin is probably red as well. Their call sounds like that of a crow with a stuffy nose. We didn't get to see them in flight, but their wingspan is impressive compared to their squat little bodies.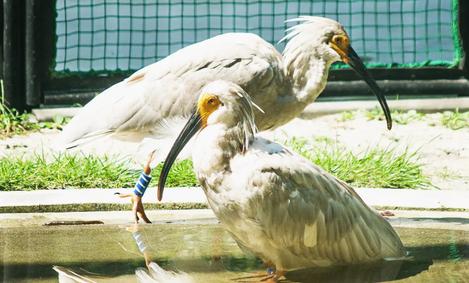 On the way out of the Observation Gallery, we noticed the gatcha machines by the entrance, which dispense pins and magnets printed with photos of the resident ibises. It costs 200 yen per play, money that goes to the care of and education about these endangered but beautiful birds.
Jill: I played the gatcha and got a pin that features Izumo, the oldest resident of the Observation Gallery. I put it on my work lanyard to show my love for the birds.
Izumo Japanese Crested Ibis Observation Gallery
2-1039 Nishijin-chō, Izumo-shi, Shimane (MAP)
We then returned to Nishi-Izumo Station to catch the train to our next stop: Kirara Taki Beach! After arriving at Oda Station in Taki (not to be confused with Oda-shi Station, which is the next city over!) we headed down towards the sea. On the way we stopped at a convenience store for fireworks and sports drinks.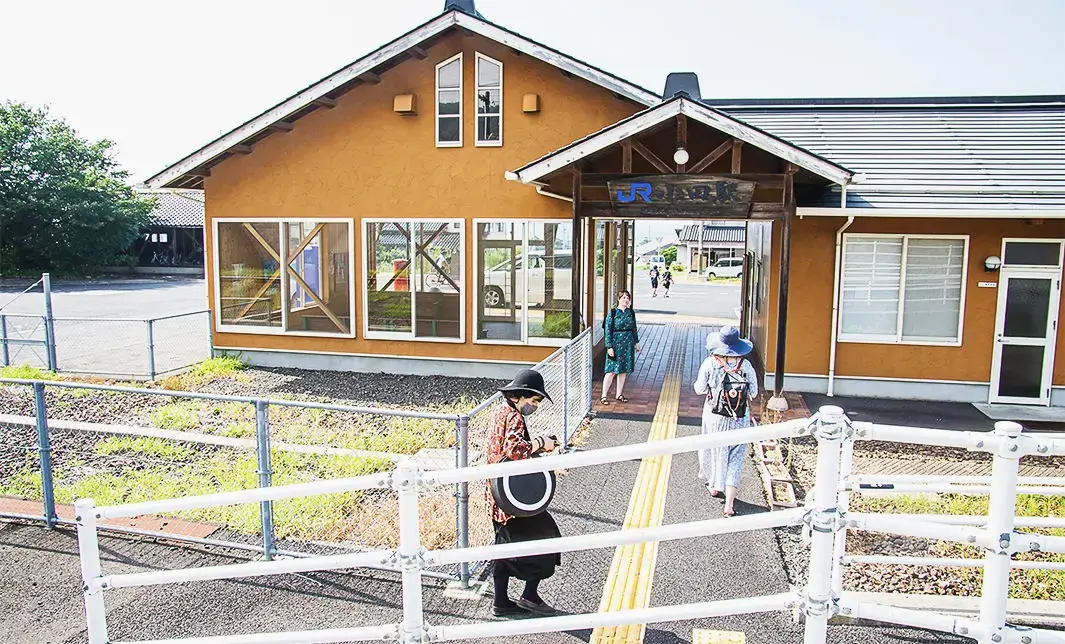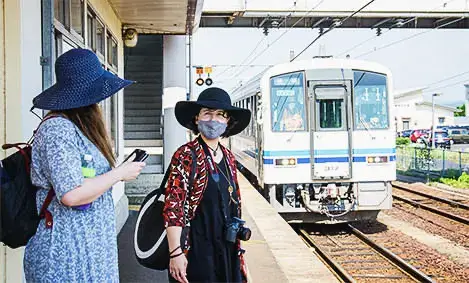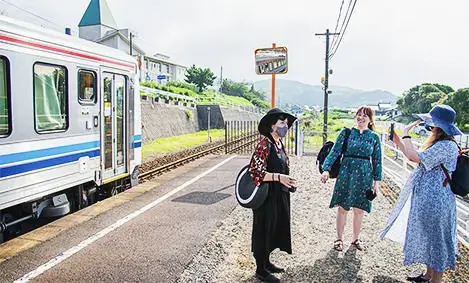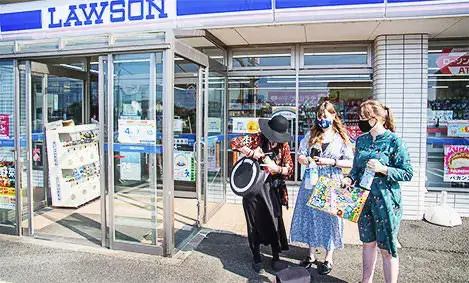 Tanja: For fireworks, I like the sets of small sparkler sticks that you can get from any convenience store. Summertime in Japan is great for spontaneous festival moods!
Oda Station
Taki Taki-chō, Izumo-shi, Shimane (MAP)
We were already melting upon arrival at the Kirara Roadside Station, so we went for the local delicacy, fig ice cream, after browsing around the souvenir shop. The Taki area is full of fig farms, and the shop sells a variety of locally made fig treats as well as other Izumo souvenirs and Shimanekko (the prefectural mascot) goods. The roadside station also hosts a nice bakery and a family restaurant, and across the parking lot there's another building that has a ramen shop and a restaurant serving authentic Brazilian food, so you have plenty of choice when it comes to feeding yourself.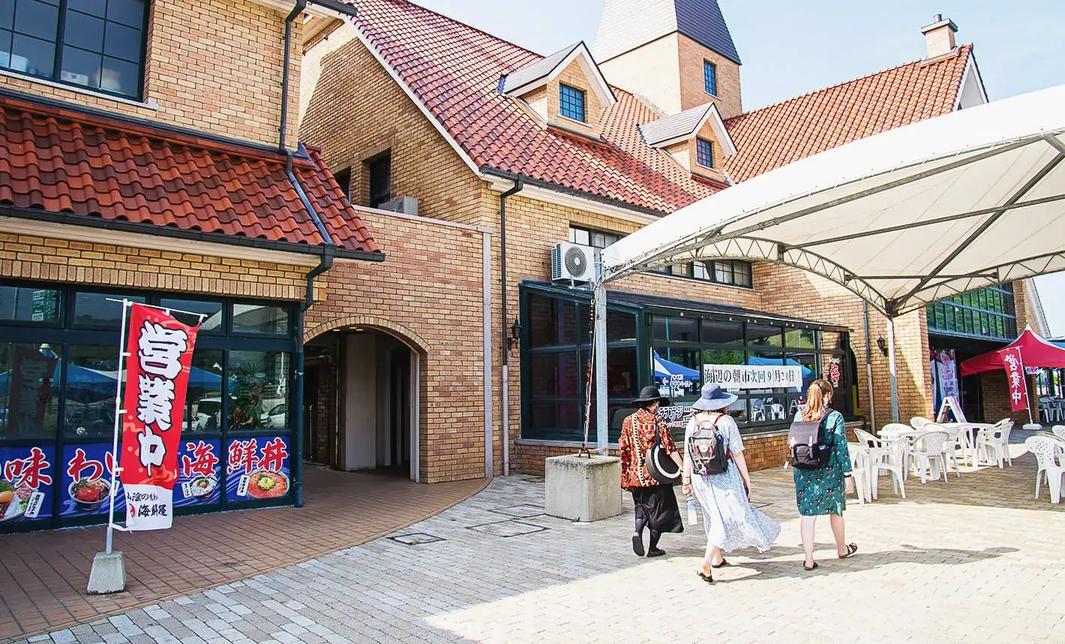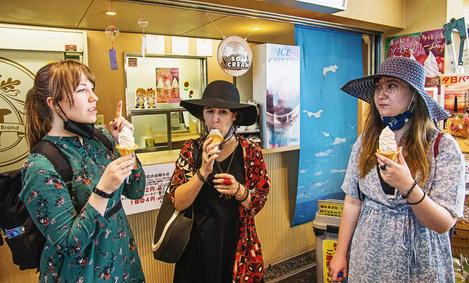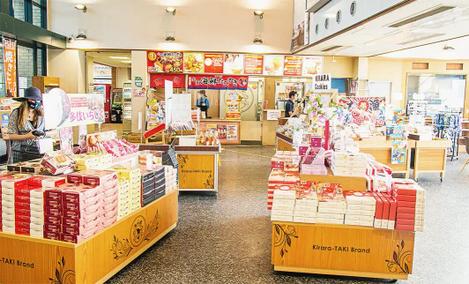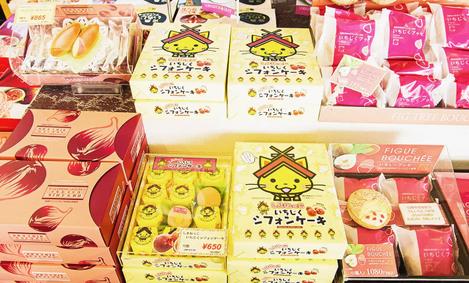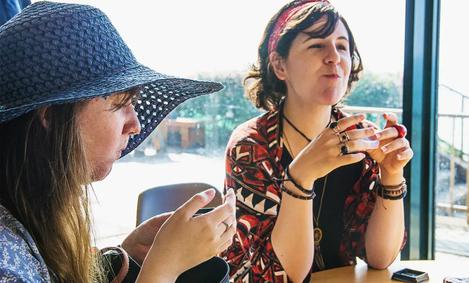 Camila: The Kirara Taki Roadside Station is especially good in summer, but also a great place all year round! This time we couldn't go to the bakery (which is my favorite part), but I was so happy to have the fig ice cream they serve at the shop! Surely hit the spot.
135-1 Taki Taki-chō, Izumo-shi, Shimane (MAP)
Next was the hallmark of a summer day trip: playing on the beach! There are changing rooms available free of charge, where we put on our swimsuits and slathered on an extra layer of sunscreen. Finally, we approached the shore. By this time, it was late afternoon, but the sun was still high in the sky.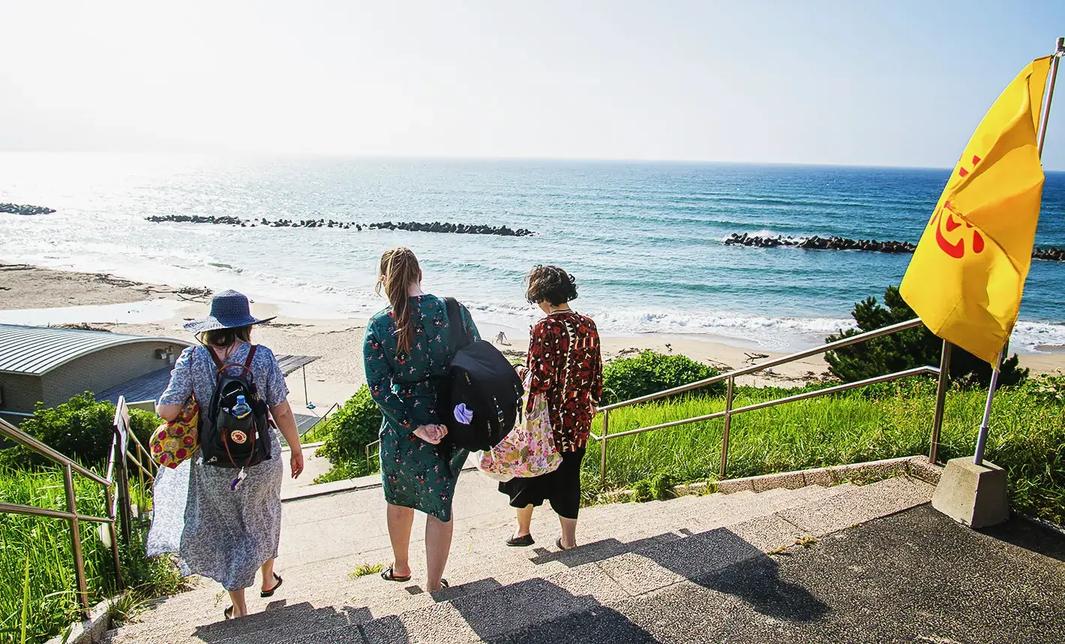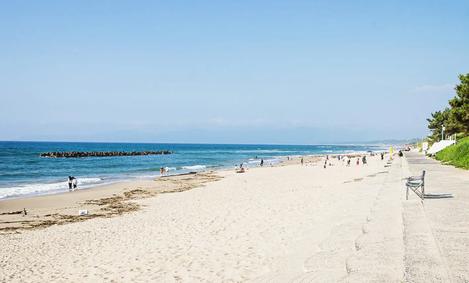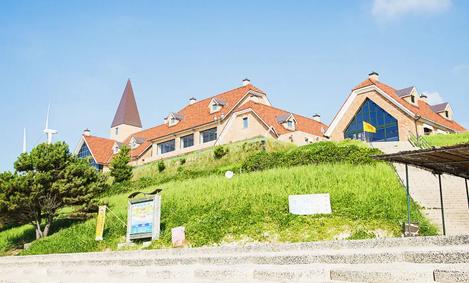 Beach umbrellas and equipment are available to rent if you'd like to relax or simply work on your tan, but we came to play. The water was the perfect temperature for cooling off, and for filling water guns, which we used to attack one another (taking care not to hit any of the other beachgoers). We jumped in the waves, posed with our water pistols, and Tanja took a short dip.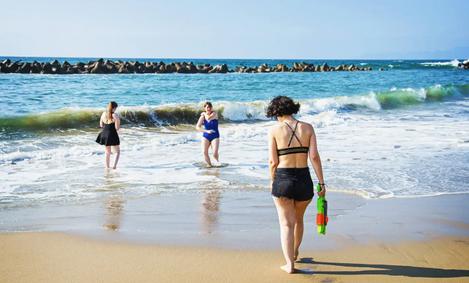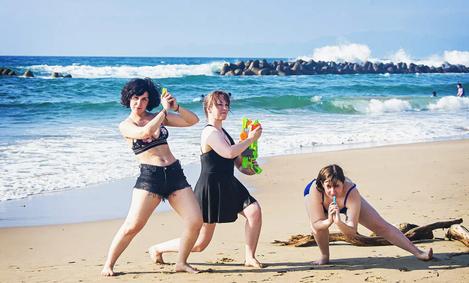 Jill: I'm terrified of jellyfish, which sadly kept me from going for a swim. I regret it! As long as it's before the O-bon holiday in mid-August, it's typically thought to be safe to swim. We did see many tiny blue jellyfish on the shore, but they were all dead. To fellow cautious souls, please don't be afraid to swim, as long as there are no advisories.
Camila: I'm afraid of swimming in the sea in general, but still had a great time playing with my friends! We saw a lot of children on that day, and I think it is a nice, safe spot to have fun with family, because the waves are not strong.
Due to the heat we didn't play for long, and took plenty of breaks to rehydrate in the shade. Finally we decided to head to dinner at the ramen shop Kai, located right next to the roadside station. Before going to dinner, we used the public showers, which cost 300 yen for 3 minutes. Be advised that the showers only take 100 yen coins, and you'll have to put them in the machine slowly to ensure it registers them. The water is warm and the showers are divided into private stalls, so it's a comfortable way to wash the salt and sand off before changing back into your street clothes.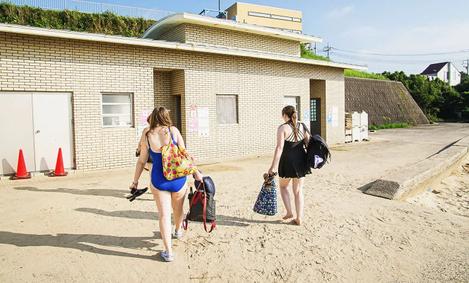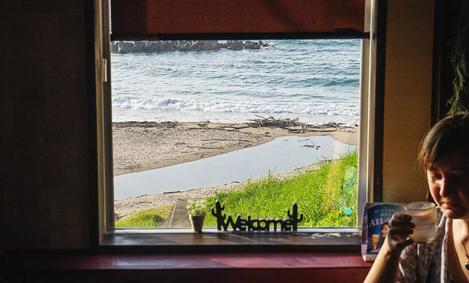 Kai is open from 11 am until 6:30 pm, so it is best for lunch or an early dinner. There are plenty of options, including every kind of ramen you could ask for, gyoza, fried rice, and karaage fried chicken. We all opted for the summer specialty, yuzu shio ramen. It's a shio (salt) soup base with pieces of yuzu rind simmered in it, resulting in a citrusy, lightly bitter, and refreshing broth. You can choose how the noodles are cooked, in case you prefer them softer or firmer, and the toppings include a soft boiled egg and thinly sliced pork. There is plenty of volume to the dish, but not the kind that makes you feel heavy -- just comfortably full, and ready for a walk on the shore, or perhaps a nap!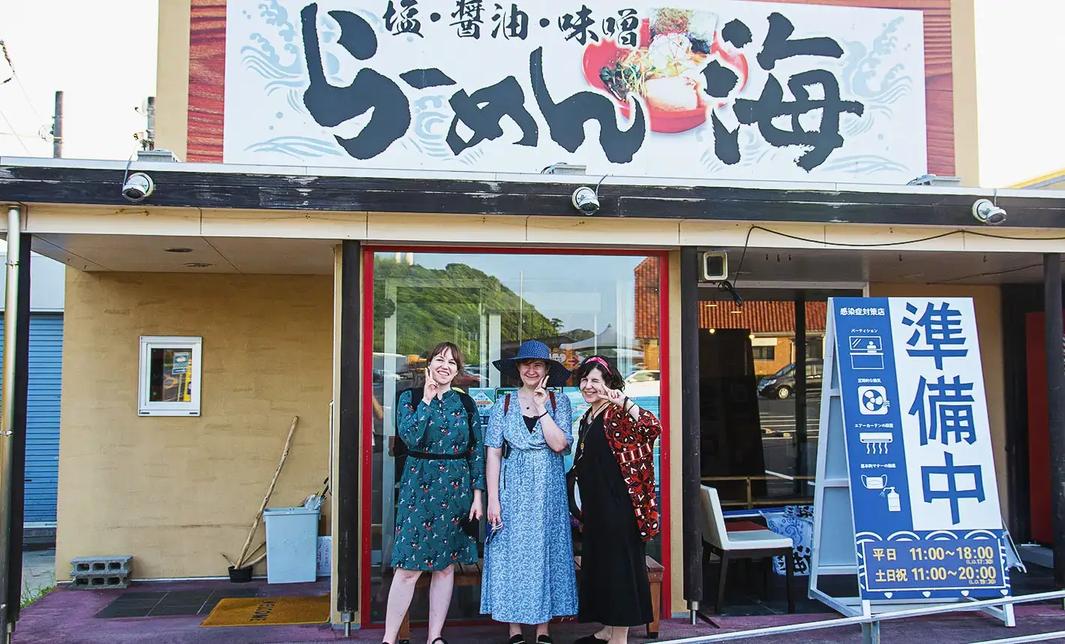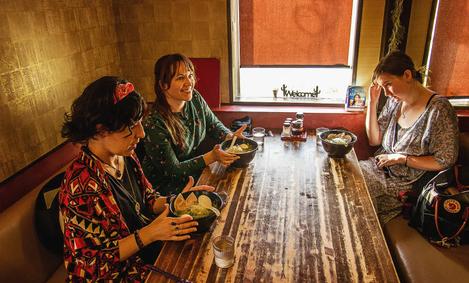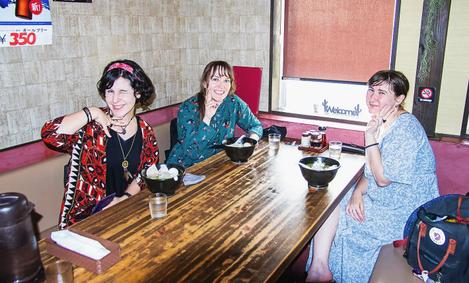 157-1 Taki Taki-chō, Izumo-shi, Shimane (MAP)
After dinner we went back down to the shore to watch the sunset and do fireworks. It was finally cooling down as we settled on the stairs alongside the sand, and the evening sky was beginning to turn a stunning shade of pink. We reflected on our eventful day, and as soon as the sun touched the horizon, we began to light fireworks.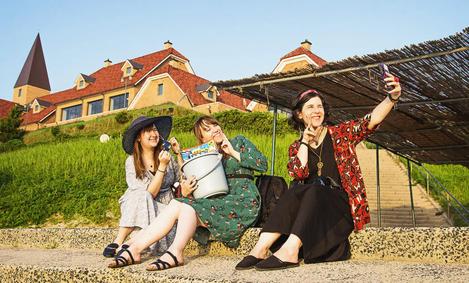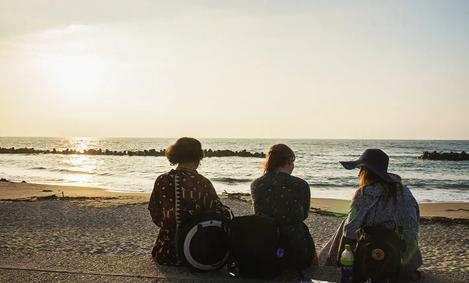 To keep our fireworks safe, we prepared a bucket of water to throw the finished sparkler sticks into. The ocean breeze really picked up into the evening, which made it difficult to get the fireworks lit -- but all the more satisfying when it happened. We worked out a sort of chain system, using one sparkler to light another, rushing to move the flame before it sparkled out.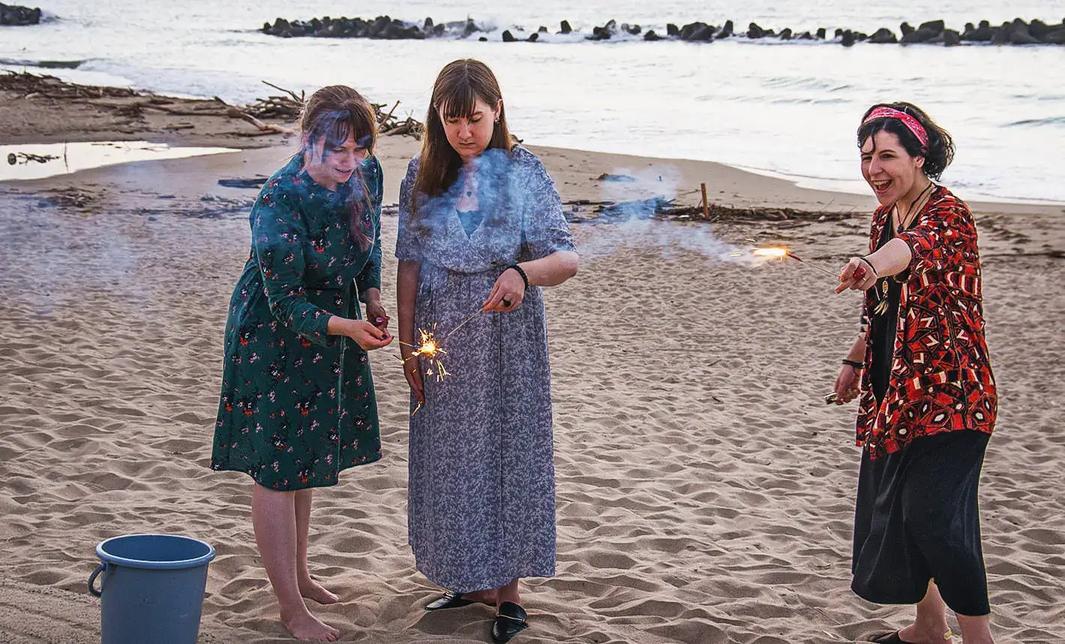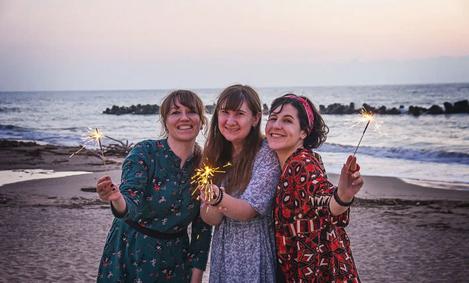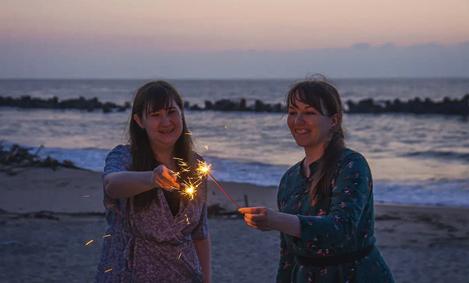 Camila: We had to do the fireworks quite early for summer standards due to our footage schedule, but usually we wait until it gets dark to start them. It is safe to stay in Kirara Beach after dark as long as you don't venture into the sea. At night the fireworks are even cuter and brighter!
Kirara Beach
Taki Taki-chō, Izumo-shi, Shimane (MAP)
Advice and Summary
If you visit Japan in the summer, follow these tips to stay cool: take regular breaks indoors or in shaded areas, and apply sunscreen before going out. Bring plenty of water, and small change to try different drinks from the vending machines along the way! Remember to hydrate not only during the day, but also in the morning before going out. Salt and electrolyte tablets, available at convenience stores, can also help out in a pinch.
When taking the train route described in this article, be advised that Nishi-Izumo and Oda Stations do not accept prepaid IC cards, and thus you should buy a ticket at each station rather than using IC cards. The doors on conductorless trains do not always open automatically, so you may have to push a button next to the door in order to get on and off the train -- but don't worry, they should be labeled clearly.
If you want to do fireworks on the beach, be sure to prepare a bucket of water to dispose of them safely. Always practice basic fire safety and common sense when handling flammable materials.
Finally, remember to wear a mask when riding the train, inside buildings, and around others. Avoid crowded areas as much as possible, and disinfect your hands when entering facilities. Be safe, smart, and considerate of health.
Camila Iquiene

Jill Adams

Tanja Severikangas