第五話
Experience Vol.5
Touring Izumo in a Traditional Kimono
If considering another perspective is to "walk in another's shoes," then wearing a kimono in Izumo is like completely enveloping yourself in Japanese culture. If this is something you'd like to try, the people at Goen Style will help you do just that. You can borrow a kimono for the day and feel like royalty as you tour the sights and enjoy the local cafes.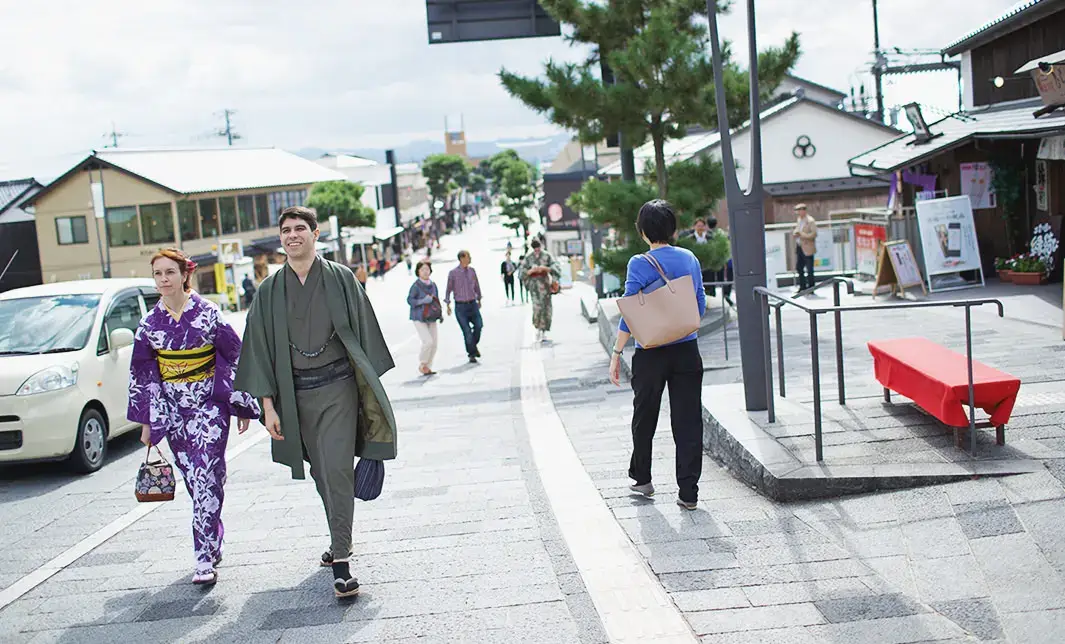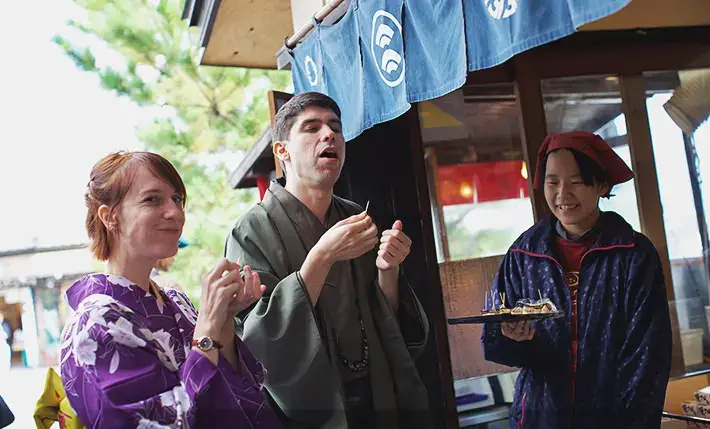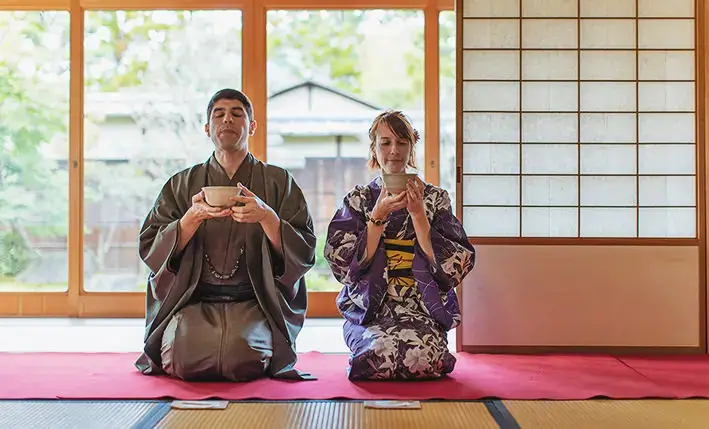 The first step is visiting Goen Style and choosing your kimono and its accessories with the help of the staff.
There is an array of colors and patterns in women's kimono to choose from. I was torn between teal with daisies and royal purple with lilies, but the staff nudged me in the direction of purple. "The lilies suit you," they assured me. For the gentlemen out there, the designs for men's kimono aren't quite as vibrant, but not to worry—there's much more to the whole kimono-wearing experience than just how it looks. The staff then recommended me an obi, or belt, to go around the kimono.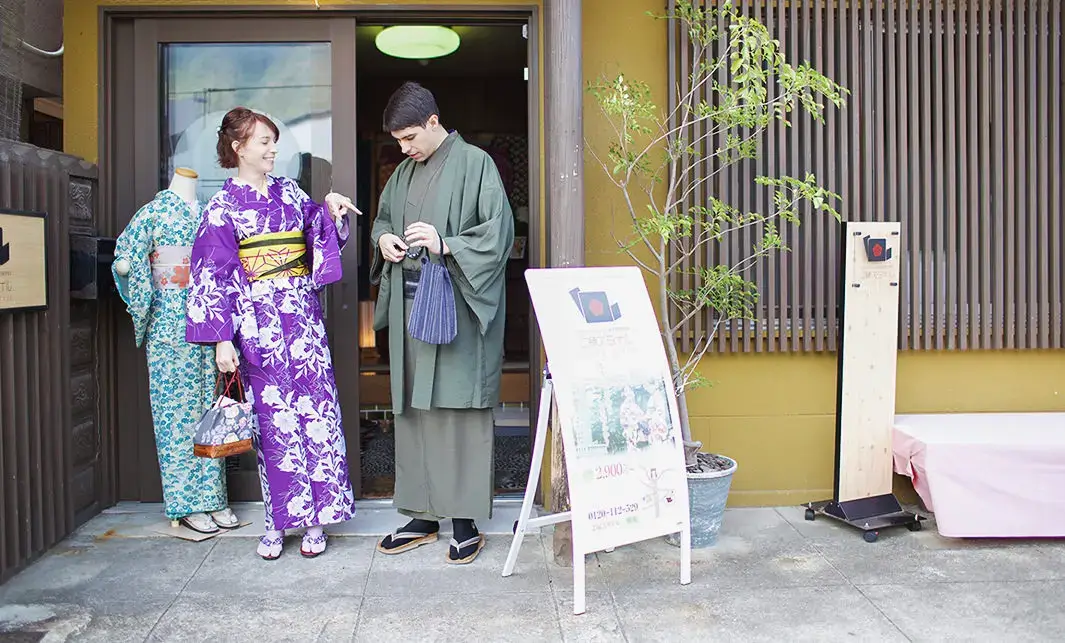 They chose a bright yellow obi with a magenta colored starburst pattern on it. To my Western eyes, this seemed like an odd choice. "But doesn't yellow directly clash with purple?" I wondered as past art classes came to mind, so I asked the fellow who recommended it how he chooses an obi for his customers.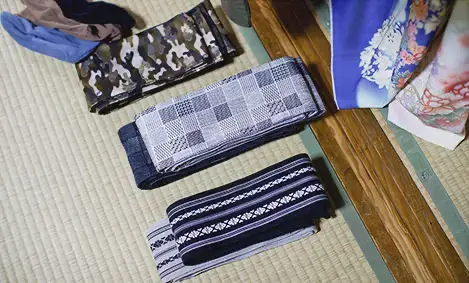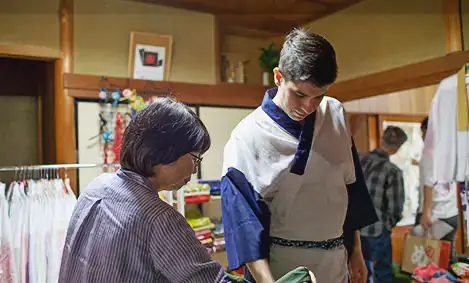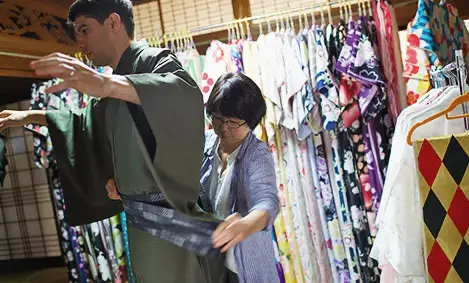 He sucked some air through his teeth as his shoulders rose into a shrug. "Oh, there's no real method to it, just a sense. I consider the color of the main kimono, its pattern, and the general aura of the wearer, and then choose whatever seems to be the most in harmony with all those elements."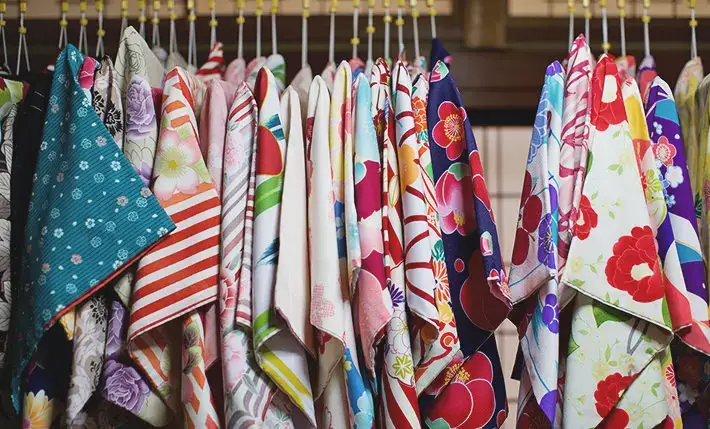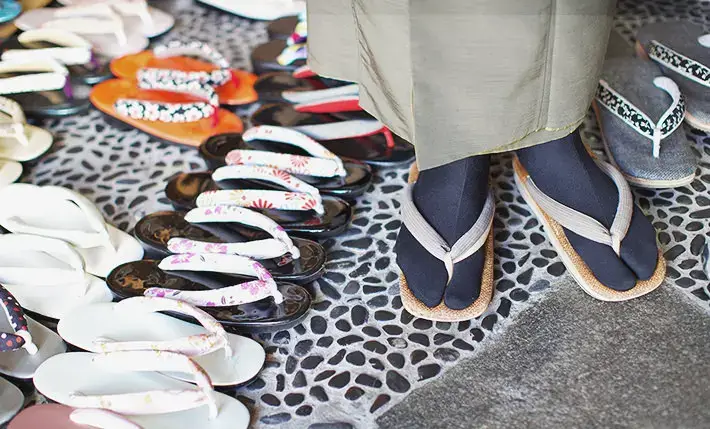 He went on to explain that a kimono with a small, intricate pattern will take an obi with a bigger pattern on it, and that it's desirable for the obi to stand out against the kimono. Contrast seems to be something to aim for when putting together a kimono, like the vermillion lacquered shrine gates against a blue autumn sky.
Next, it was time to put on the kimono, which can be a daunting task—luckily, Goen Style staff were right there to wrap me up in a cloth cocoon.
They really know how to navigate that difficult balance between securing the multiple layers that go into a kimono, and making sure the wearer can breathe. They then offered to style my hair for me. I wasn't sure how they would handle my short and impossibly fine hair, but they managed to make it look elegant enough to match the kimono.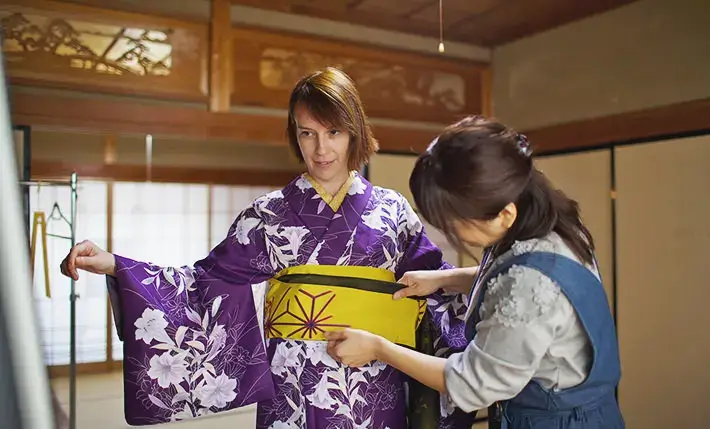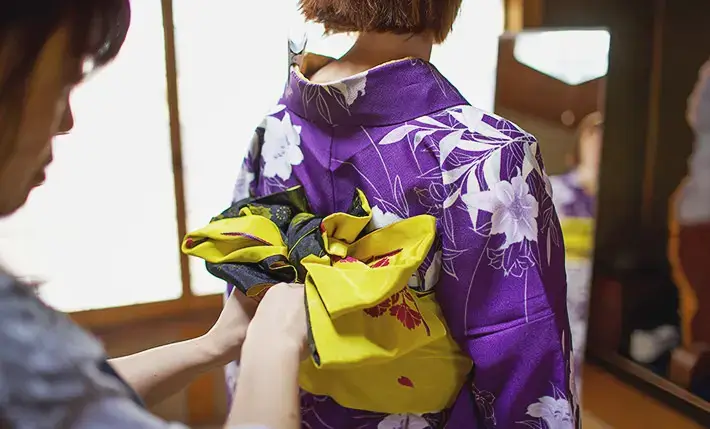 Finally, I stepped into some geta, or traditional thong clogs. They may be a bit small on many Westerners, but the staff assured me that having one's heel hang off the back of the clog is de rigueur. At any rate, if you are concerned that wearing geta may be uncomfortable, you may want to bring a pair of sneakers along with you just in case. You are also welcome to leave your clothes at the shop, so you do not have to worry about carrying them around with you as you enjoy your stroll around the town dressed up in your kimono.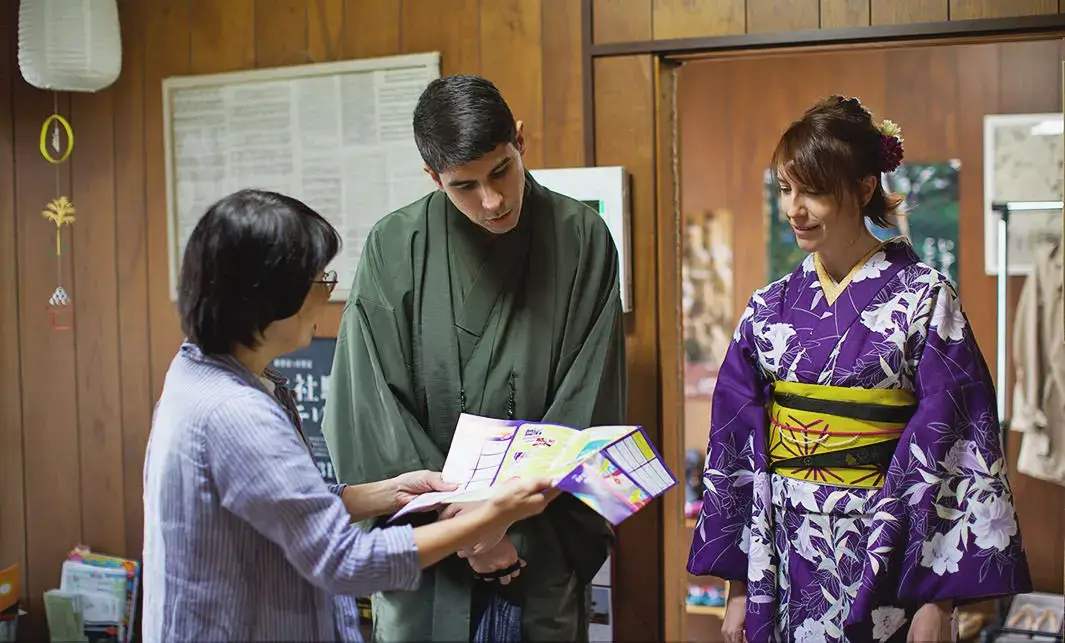 Izumo Taisha Rental KIMONO Goen Style
website
784-1 Kizuki-minami Taisha-cho, Izumo-shi, Shimane (MAP)
Open : 9:00a.m. ~ 5:00p.m. (Closed: Mondays)
Then it was time to step out and see Izumo in my beautiful purple kimono!
Although the weather was a bit chilly, the kimono was surprisingly warm with all its layers. The first stop was of course Izumo Taisha Grand Shrine. I should point out here that you shouldn't expect to go anywhere fast in a kimono, and it's best to take short steps in order to keep the layers elegant and intact.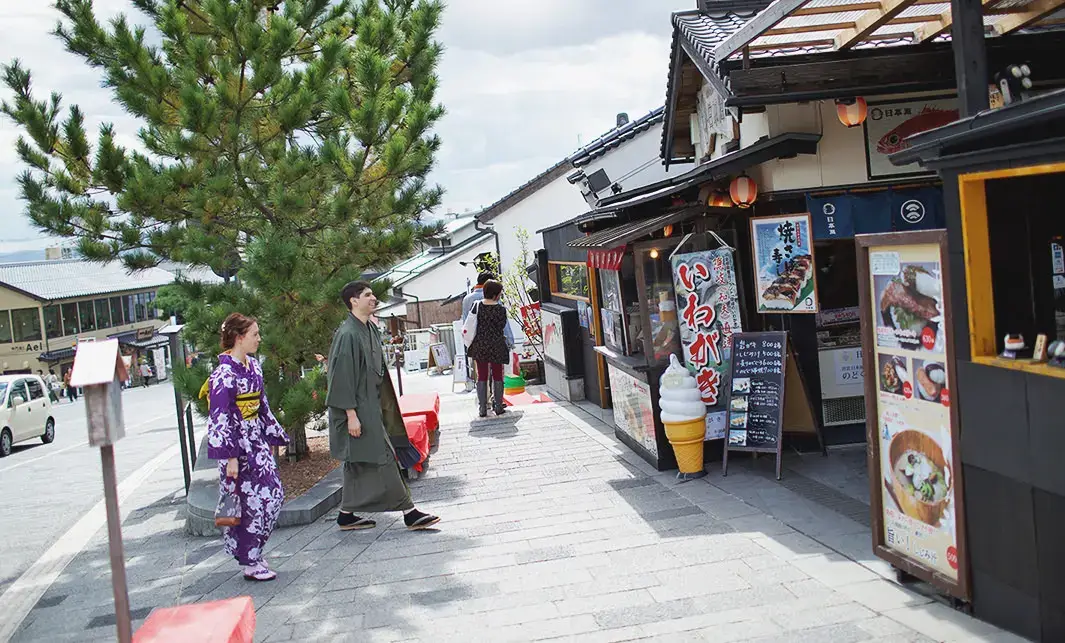 But I think this forces you to slow down and really take in the understated grandeur of the shrine. When I stopped to visit the 1000 year-old tree found right near Inochinushi no Yashiro, the kimono made me feel frozen in time right along with it.
After that I visited Goen Yokocho, located next to the Seidamari Torii Gate. There you can find places to take a break, lockers, restrooms and the building offers Wi-Fi. At the "Goen Shimenawa Taiken Kobo" I had a chance to recreate a miniature version of the massive shimenawa rope draped across the Izumo Taisha Grand Shrine's kaguraden hall.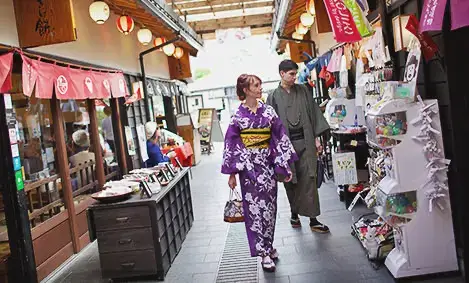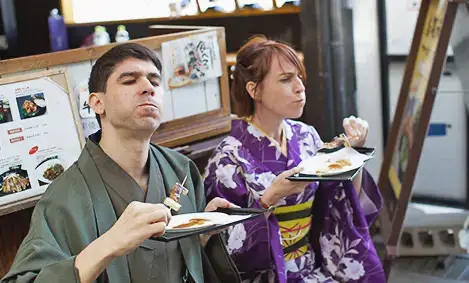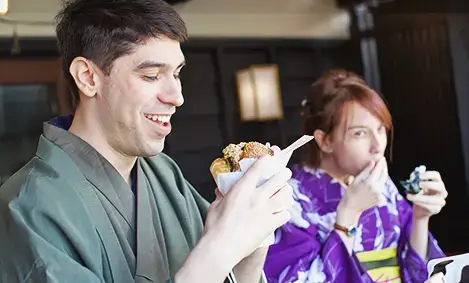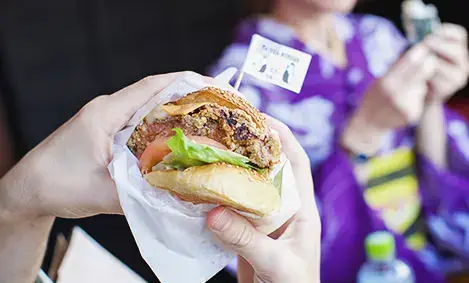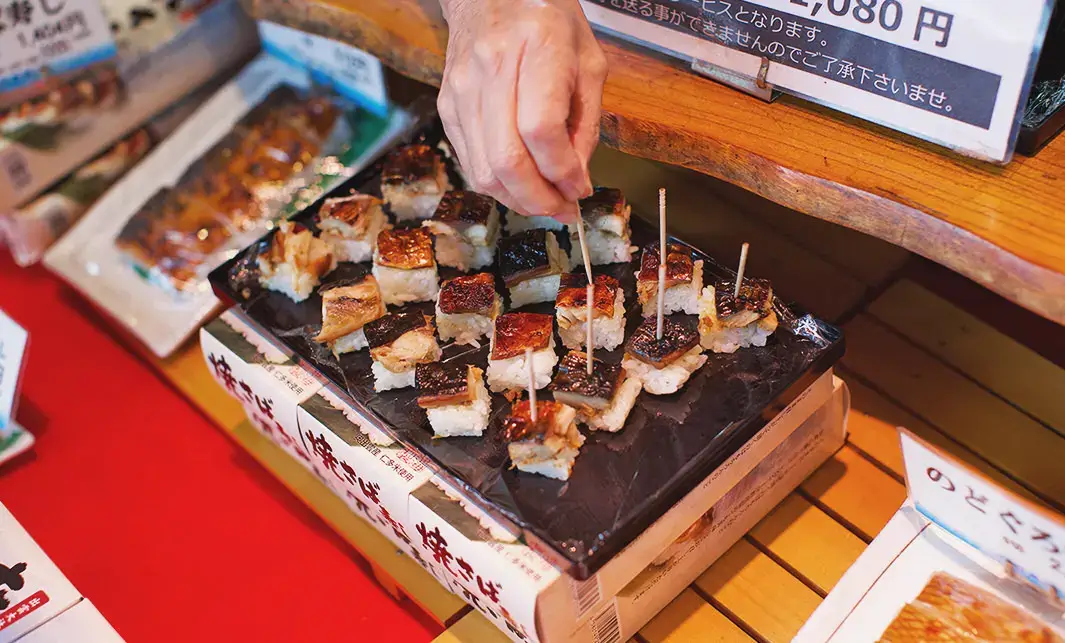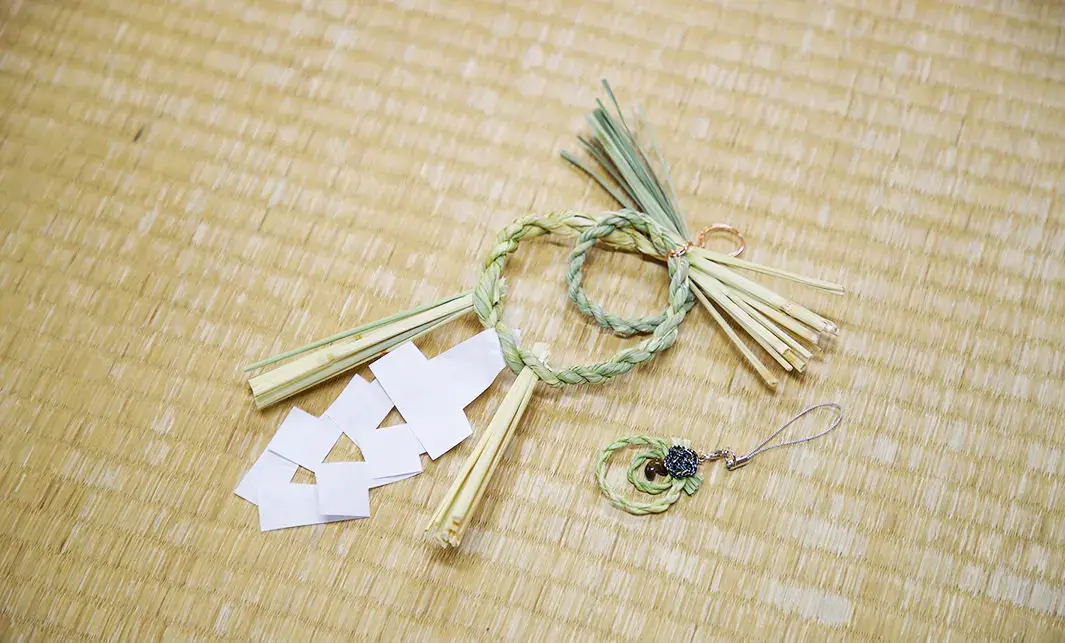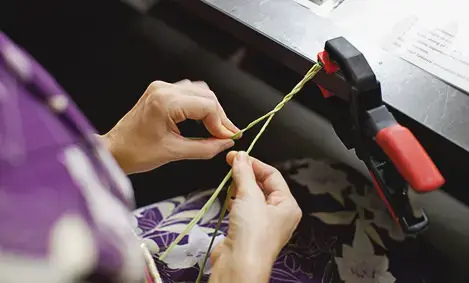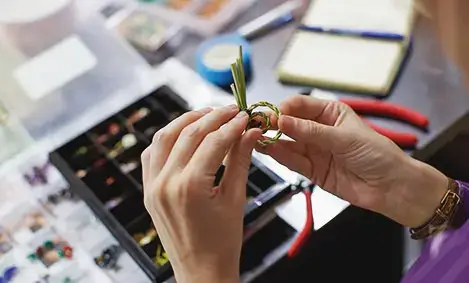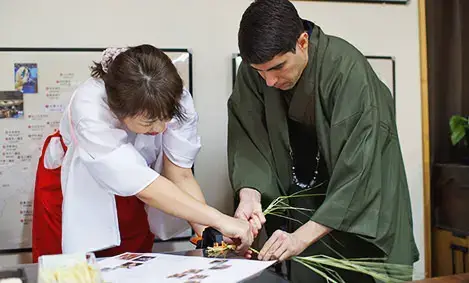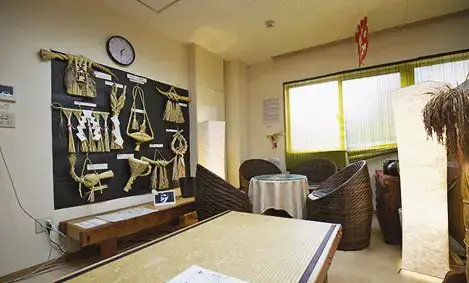 Even if you don't understand the language, the helpful staff will walk you through the entire process of twisting a piece of straw and bending it into a small accessory you can take home with you. I made a strap for my mobile phone out of small straw and my friend an accessory for his door at home. I think these accessories are ideal travel souvenirs.
840-1 Kizuki-minami, Taisha-cho, Izumo-shi, Shimane (MAP)
Open : 9:00a.m. ~ 5:00p.m. Time fluctuates (Closed: Irregular holiday)
The next place I visited was the Izumo Bunka Denshokan (Izumo Cultural Heritage Museum), just a 5-minute taxi ride away from Izumo Taisha Grand Shrine.
The site is surrounded by a windbreak forest of tsukiji pines, and on the premises are restorations of the old house of Izumo, the Ezumi family, as well as the Nagaya-mon gate and garden.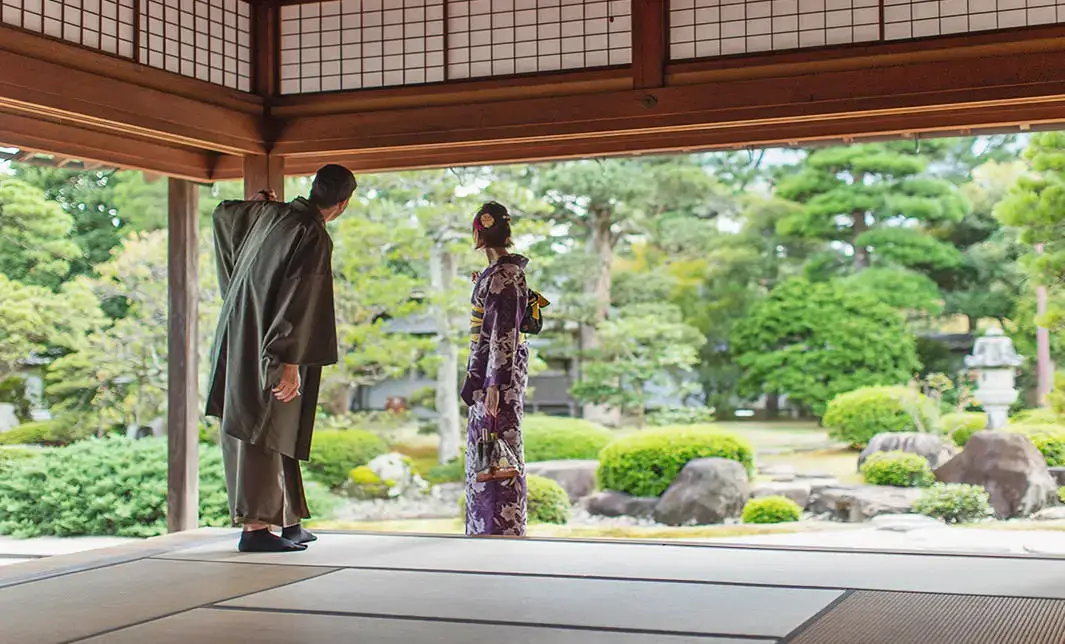 Other buildings include the Matsue lord's favorite tearoom "Dokuraku-an", as well as Shorai-tei which uses modern Sukiya architecture.There are exhibits for cultural heritage and the arts, and if you come to visit you'll get to experience the ancient culture of Izumo.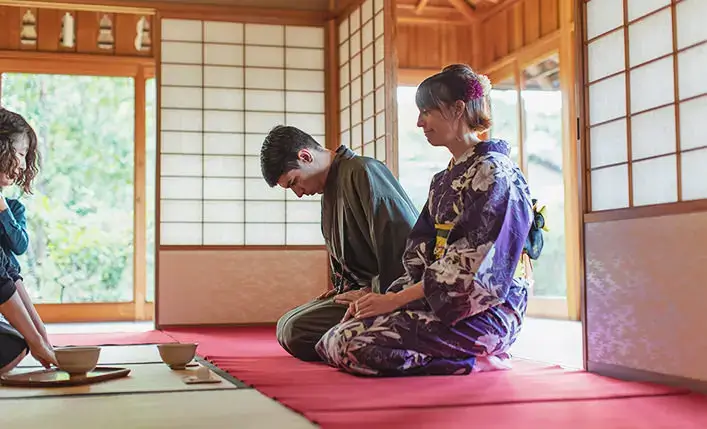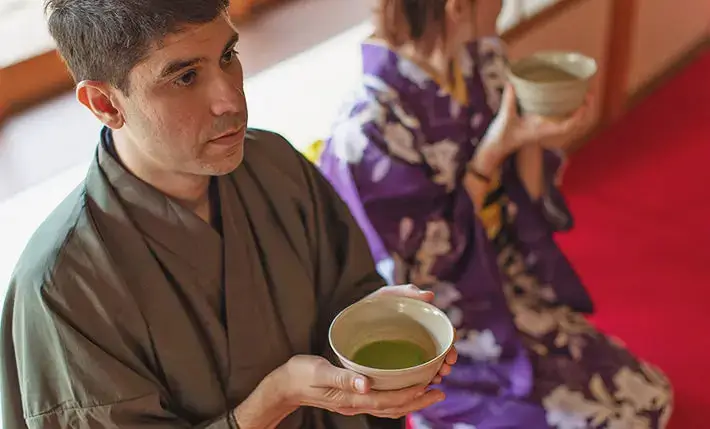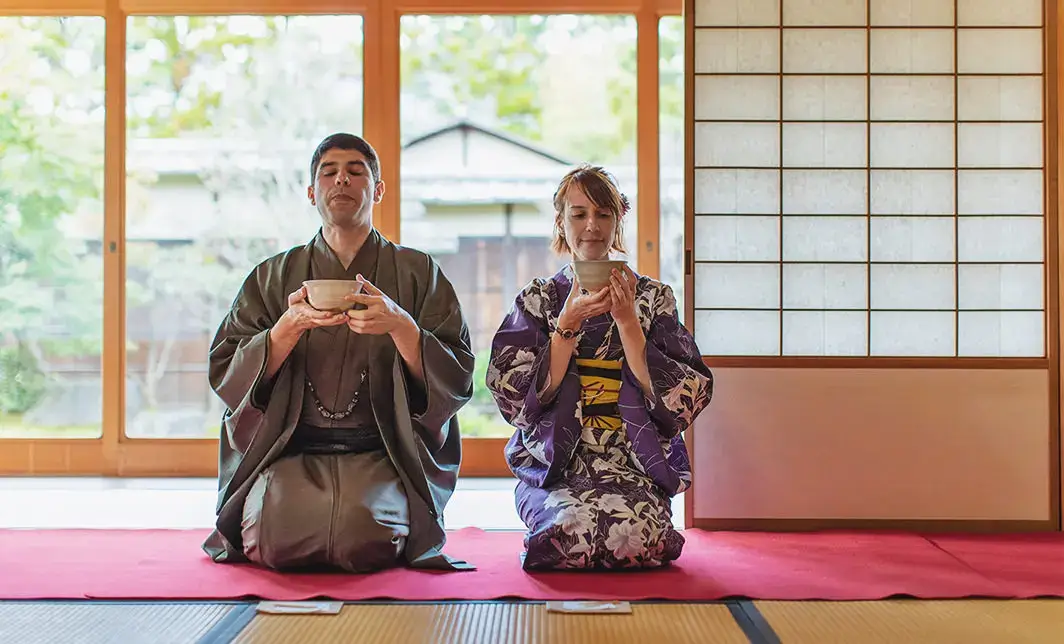 You can also have a traditional Japanese tea experience at the Izumo Cultural Heritage Museum. Enjoying a small traditional cake with a big mug of matcha tea in a quiet tatami room overlooking a serene garden… if you're going to rent a kimono, this is a can't-miss experience!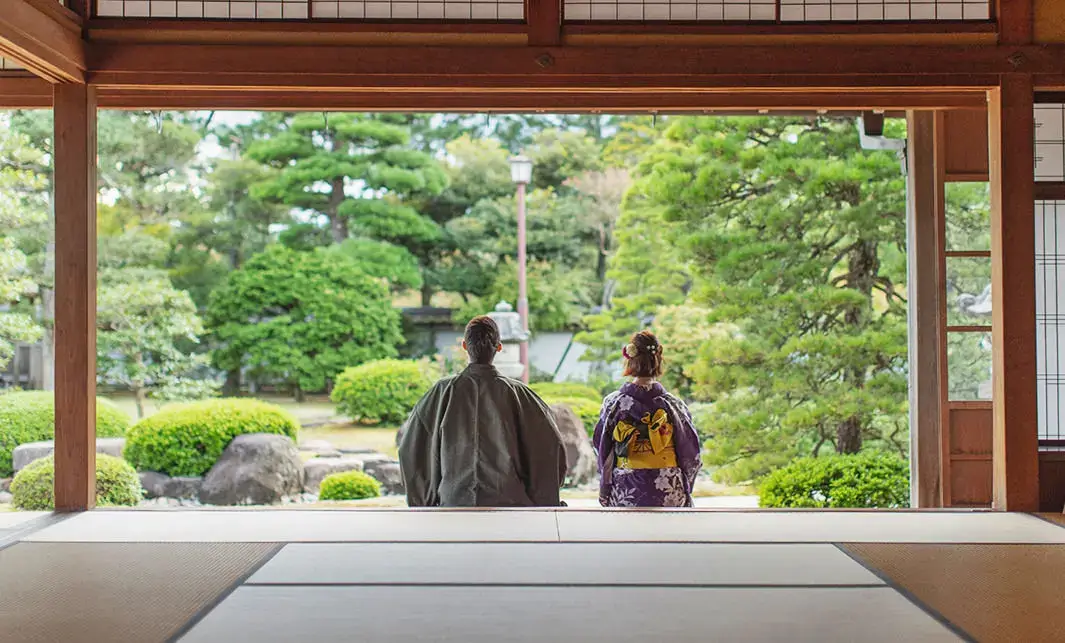 2-15 Enya ari hara-cho, Izumo-shi, Shimane (MAP)
Open : 9:00a.m. ~ 5:00p.m. (Closed: Mondays "open on public holidays")
New Year's Holidays (December 29 - January 3)
Walking in a kimono makes you feel elegant but It's also very tiring. Fortunately, there are plenty of cafes where you can take a break.
Directly across the street from Izumo Taisha Grand Shrine is—what else?—a Starbucks. To the store's credit, the Izumo location is tastefully designed in a way that honors traditional Japanese architecture, and the building is shared with a locally-owned souvenir shop. On the second floor, there are backless stools that are perfect for having a seat without messing up the intricately tied obi on your back. I'll admit to feeling a bit unsettled to see an American mega chain encroaching on an ancient and sacred site. However, it reminded me of what the staff of the Arakiya soba shop had told me about their history, and how the restaurant encouraged people in the Edo period to stop at their place after visiting the shrine. Commercialism is nothing new, and if you have a Starbucks coffee after your shrine visit, maybe you aren't so different from people 300 years ago!
If you would rather not visit Starbucks, you can also get a great hand-dripped coffee at Taisha coffee, which has a relaxing view of the street from the second floor. You can also get zenzai, which is a sweet red bean dessert soup with mochi dumplings at Kutsurogi Wa Café Amaemon; matcha soft ice cream at Terakoyahonpo, or manju sweets with white bean paste inside from Tawarayakaho.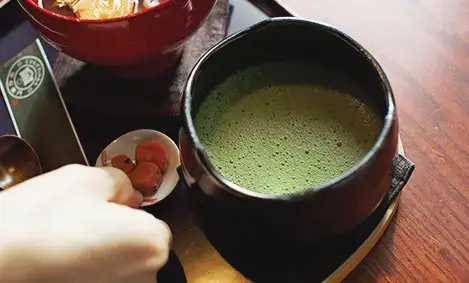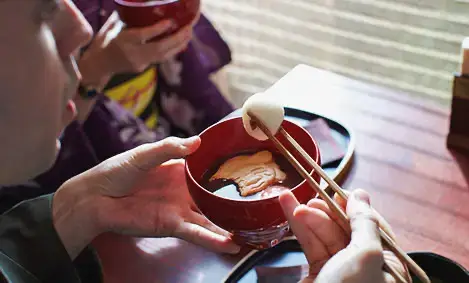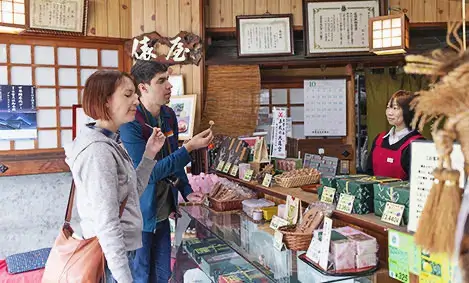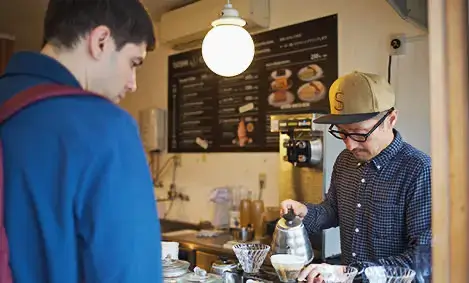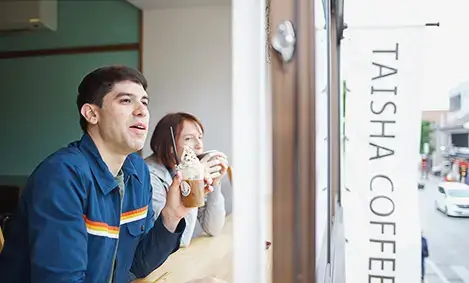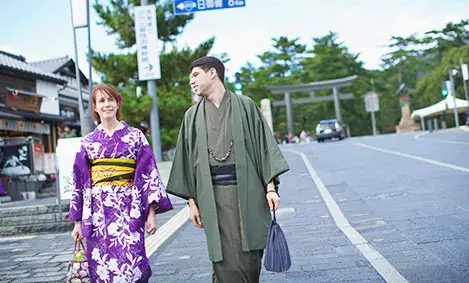 My personal favorite was the Okinogami Blue Cacao's Chocolate Factory, where you can watch the workers molding dark cocoa and matcha tea-flavored chocolate into squares. You can also eat chocolate from around the world here.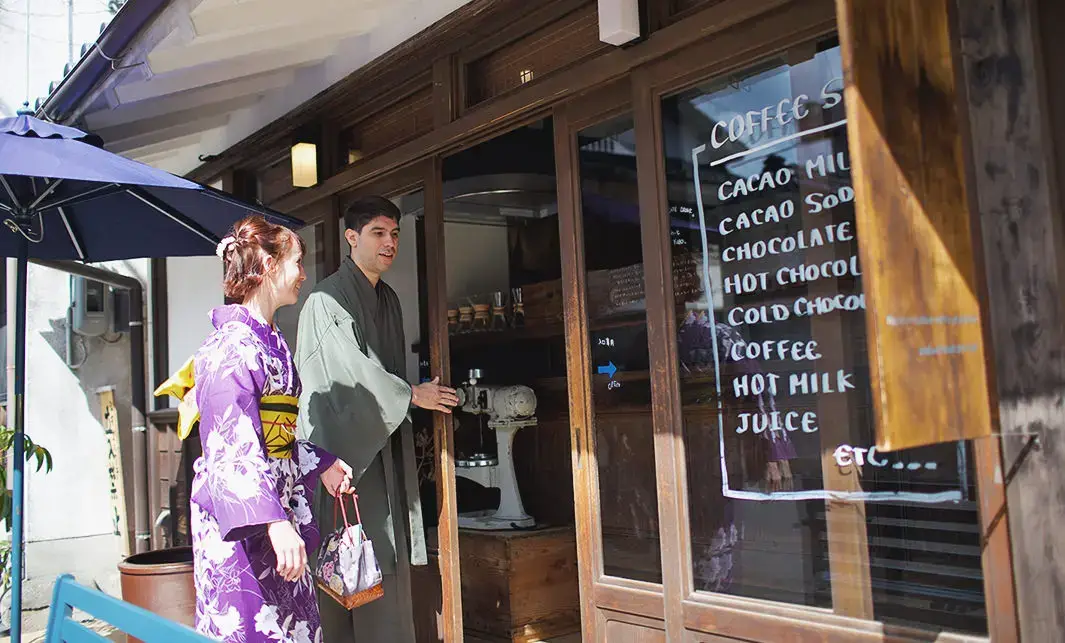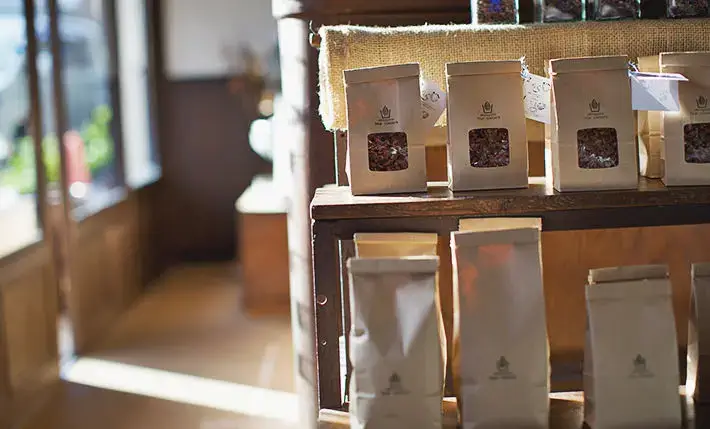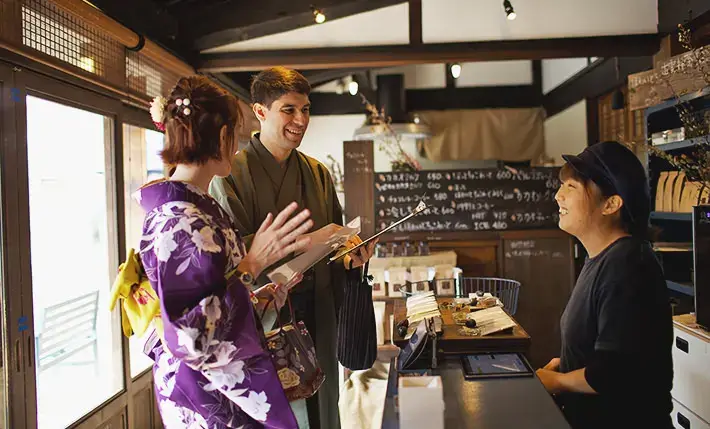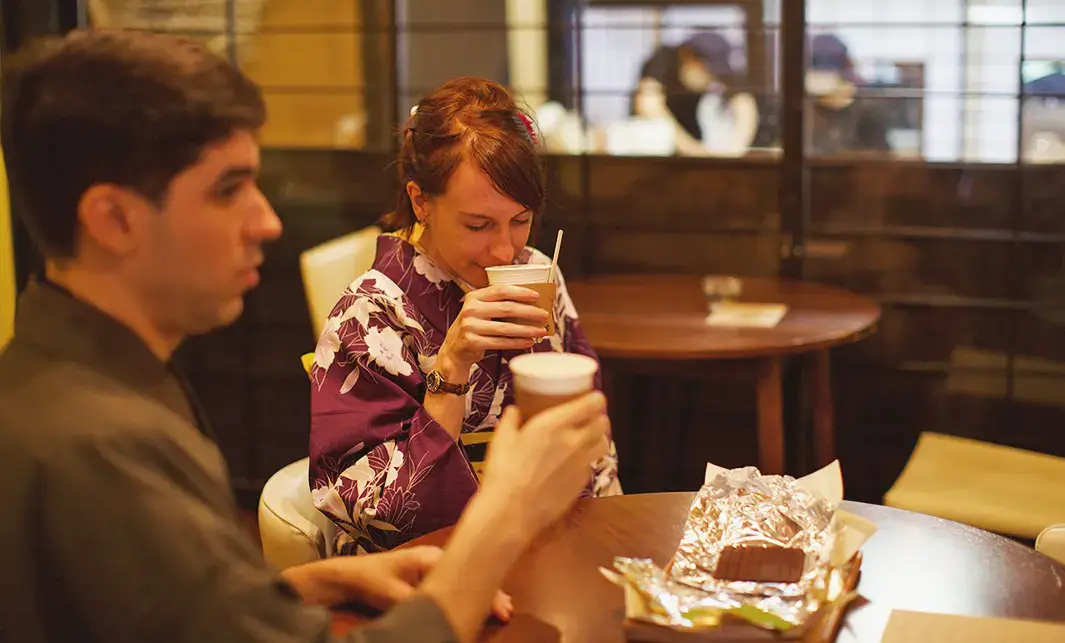 I tried some Costa Rican chocolate, which tasted a bit bitter at first but had a nice aromatic aftertaste, and after that, the crispy Izumo Matcha Chocolate. And you can drink their to-die-for hot Chocolate while you watch!
Okinogami Blue cacao's Izumo Chocolate Factory
website
765-1 kizuki-minami, Taisya-cho, Izumo-shi, Shimane (MAP)
Open : 10:00a.m. ~ 6:00p.m. (Closed: none)
Later in the afternoon, it was time to return my beautiful kimono to Goen Style, but the day wasn't finished yet—it was time to visit the former Izumo railway station!
It's a grand old building with a high ceiling and almost European-feeling architecture typical to the Taisho Period around the turn of the 20th century. There is a display of mannequins wearing old-fashioned railway staff uniforms, which can be a bit creepy if you aren't expecting it, but very interesting all the same!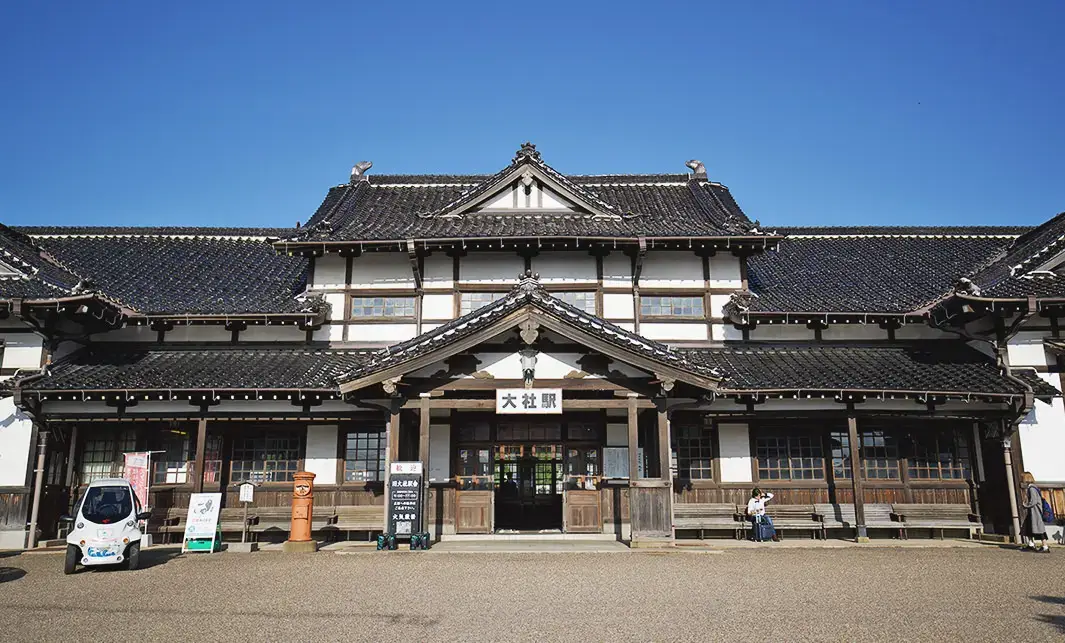 In the back of the station along the former tracks, there is a replica of a locomotive, and this is a must-see for any train enthusiast. You can even touch and go inside the locomotive. Unfortunately, there aren't many English displays at this time but you can feel the atmosphere of Taisho Roman (You can feel the culture of 100 years ago in Japan.)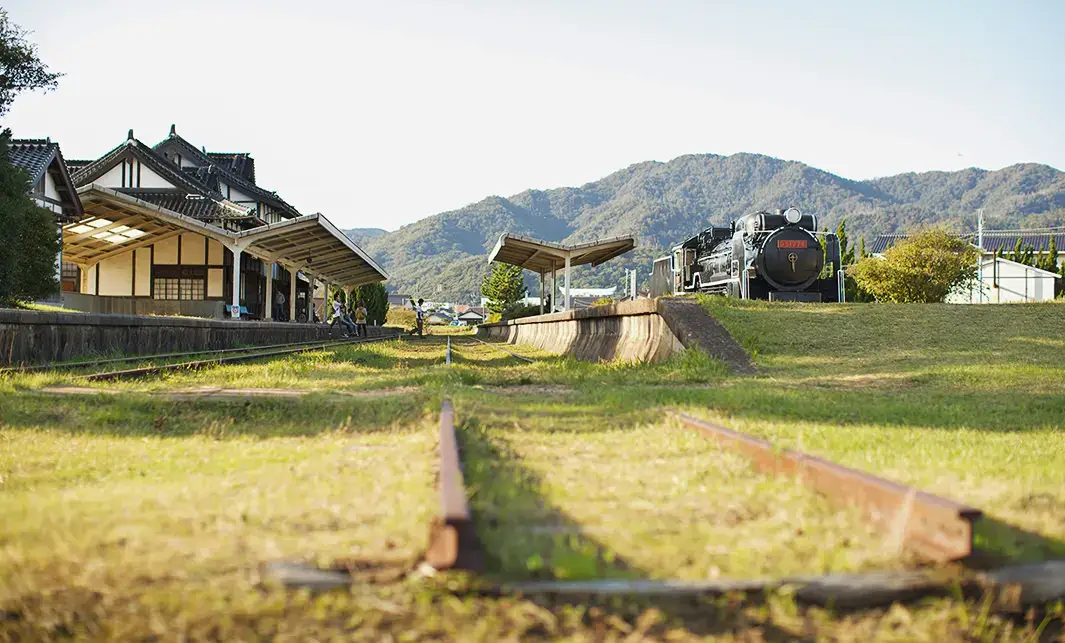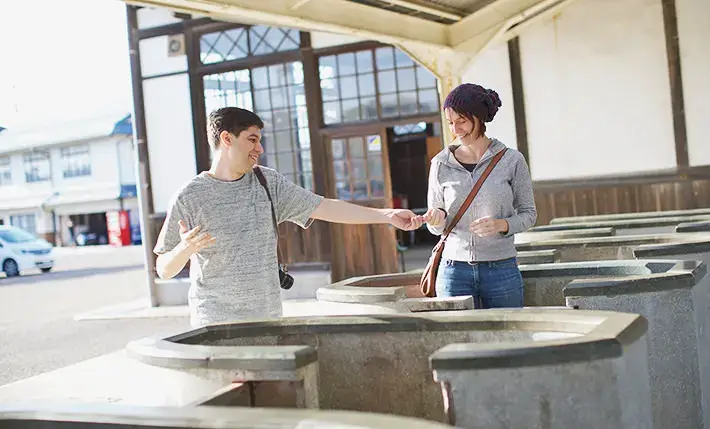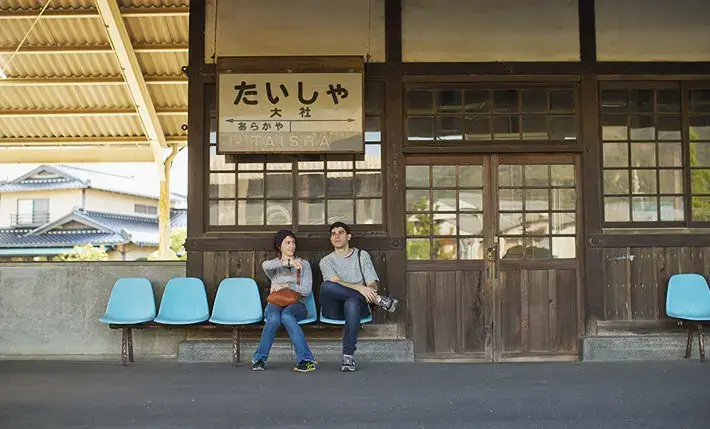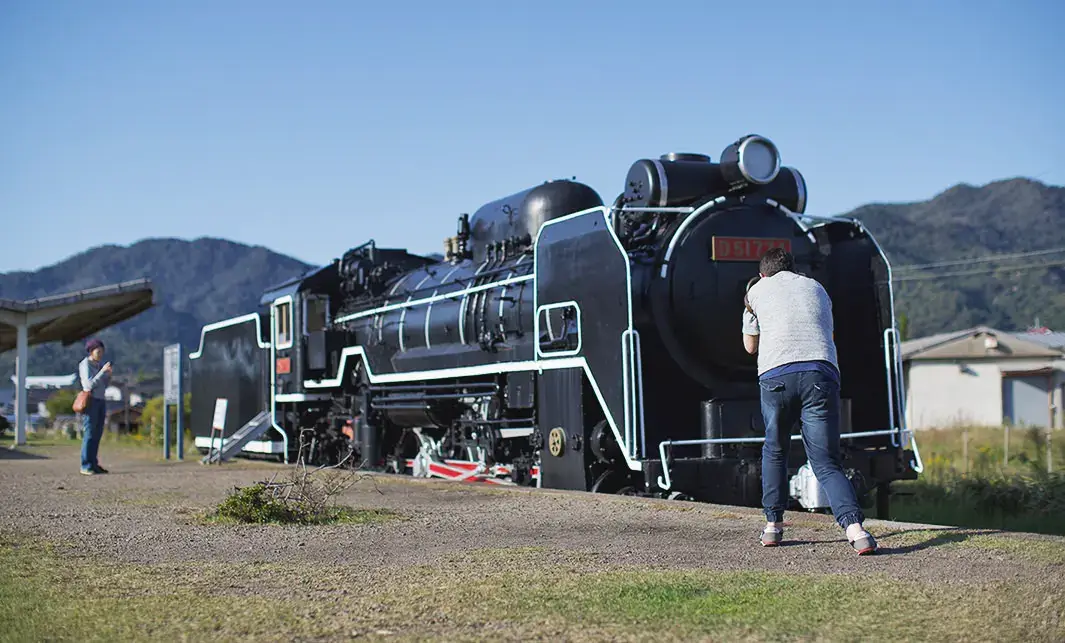 441-3 Kita-araki, Taisha-cho, Izumo-shi, Shimane (MAP)
Open : 9:00a.m. ~ 5:00p.m. (Closed: none)
Final Impression
All in all, renting a kimono while you tour Izumo is a great way to really immerse yourself in Japanese culture.
Wearing it will quite literally slow you down, but in the best way possible.
by Meister Christine