第九話
Experience Vol.9
Izumo Taisha by bike - A Spring's Day Journey
It's easy to take Izumo's historical sites and rich natural landscapes for granted when you work and live here. When we took a bike journey from Izumo-shi Station to Izumo Taisha (and beyond!), we got to remember the blend of nature and culture that makes Izumo unique.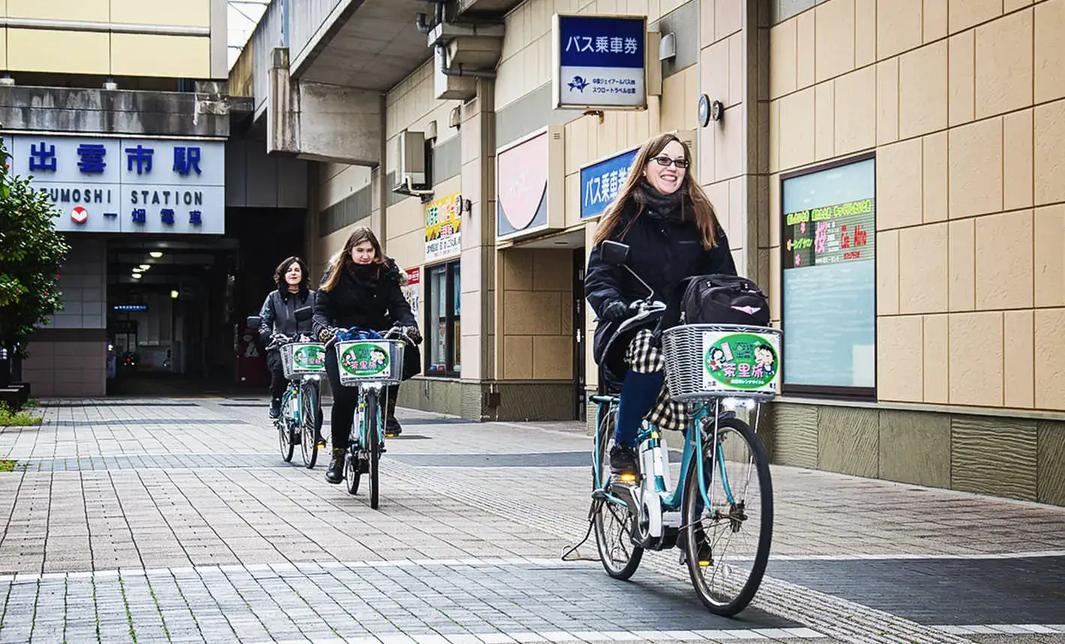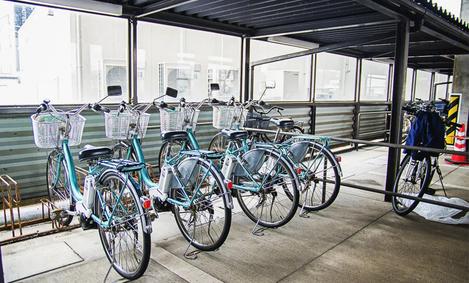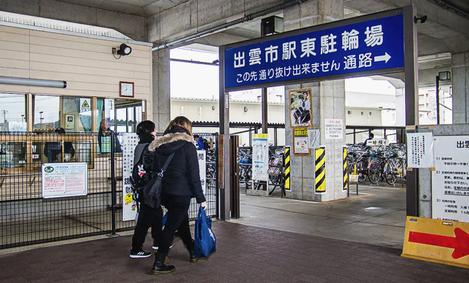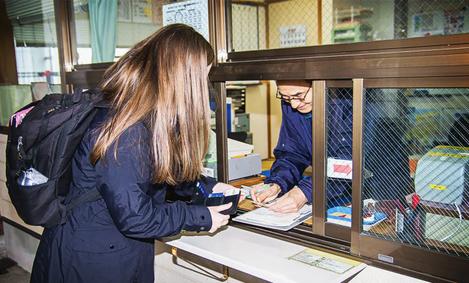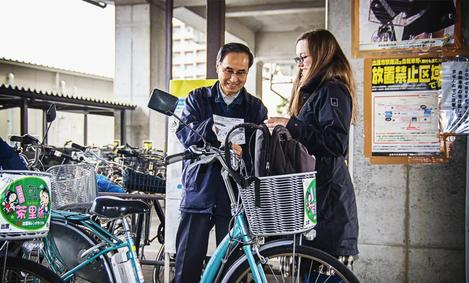 Our excursion began at the east bike parking lot of Izumo-shi Station. The bike rental process was simple: as long as you have an ID, the address where you're staying, and a contact number, you can fill out a rental form. Make sure you have those with you before you head over. We filled out one form for our group, and were ready to go!
We rolled out of the parking lot of Izumo-shi Station and set off for the first stop of our journey: breakfast, and cherry blossom viewing along the way.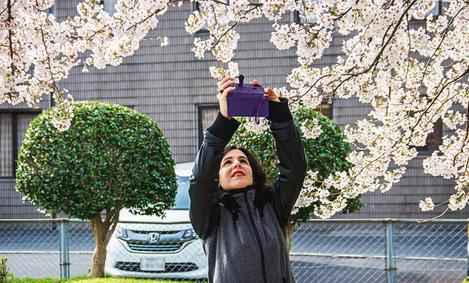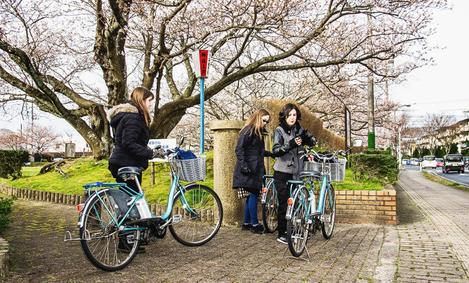 Jill: This would be my first time to bike such a long distance in one day, but the electric assist feature on our rental bikes eased my nerves about running out of stamina.
Nearby the Izumo Shimin Kaikan is a small park full of cherry blossom trees. We made a brief stop to confirm our route, and took the opportunity to take some selfies underneath the cute fluffy treetops.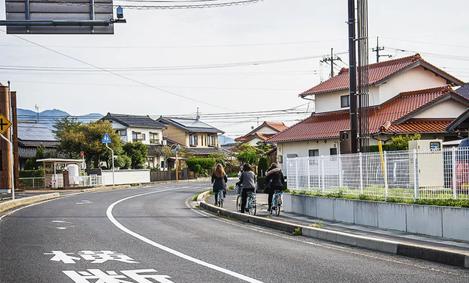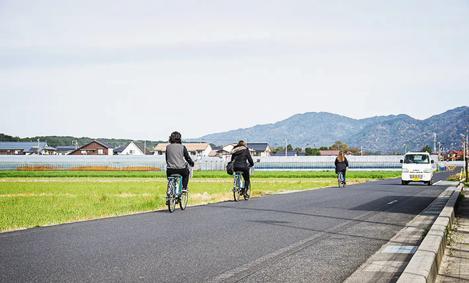 Izumo can feel like a small town, especially when you live here, but it actually covers a vast area full of diverse neighborhoods. Turning off of the bicycle path that runs along the Takasegawa River, we rounded the corner onto a residential street in the Matsuyorishimo district.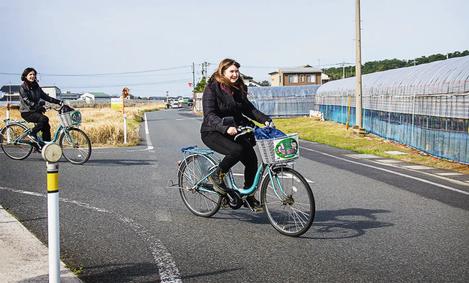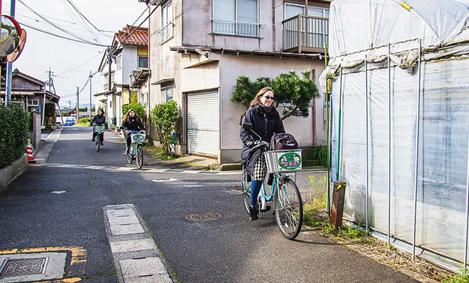 Jill: The atmosphere was entirely new: huge houses on lots with plenty of land, red brick buildings and red tile roofs -- a stark difference from my zero lot line apartment block ten minutes away.
The next street over opened into a maze of vineyards and rice fields. Natural Yeast Bread Rhubarb, usually known as just Rhubarb, was somewhere at the center. It's a straight shot through the greenery, but pedaling the narrow dirt paths between greenhouses is its own adventure.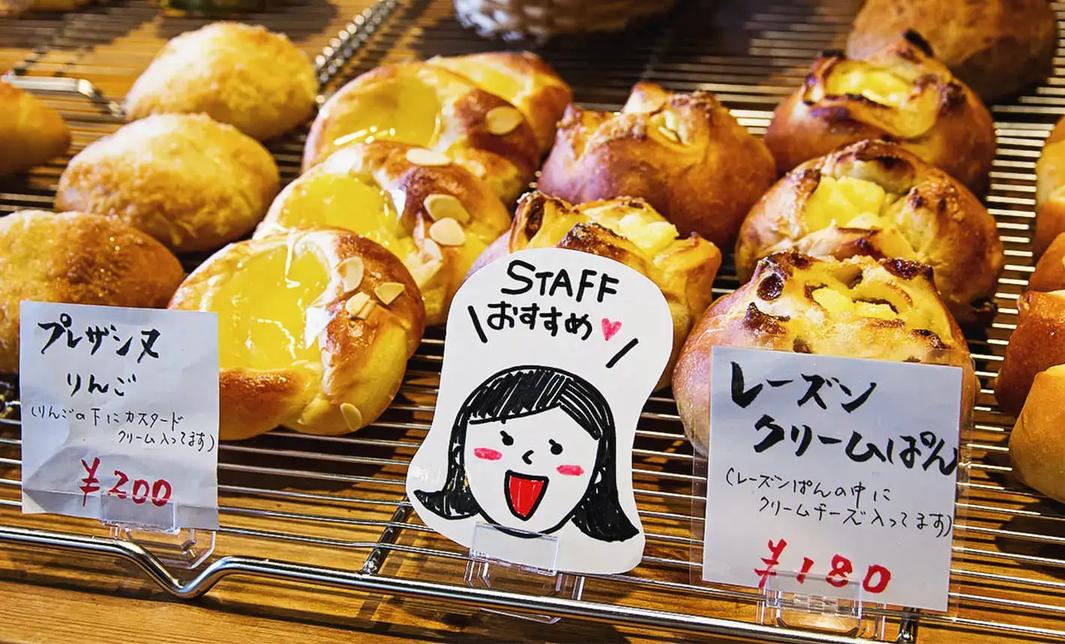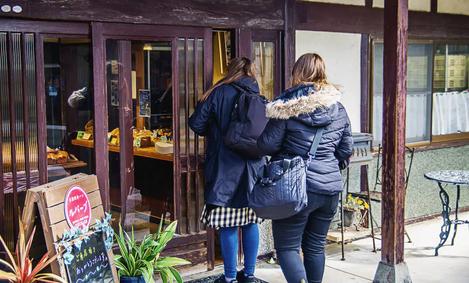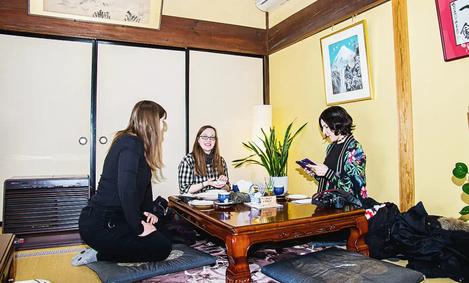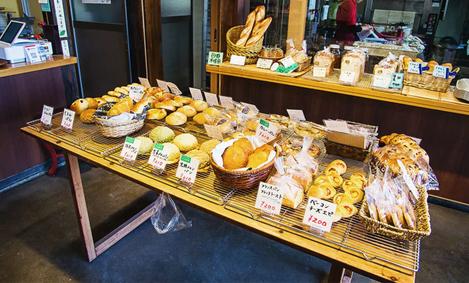 Rhubarb feels like a friend's house, unassuming but cozy, with a little garden out front. Just inside, a central table and some counters lining the wall overflow with sweet and savory buns, croissants, loaves, and all other kinds of bready goodness. After loading a tray with goodies, we ordered fresh coffee at the register, and relaxed at one of the low tables in the raised tatami section of the room. It was a special kind of luxury to watch the baker in the rustic kitchen fix our pour-overs as we tasted the bread.
1665 Hama-chō, Izumo-shi, Shimane (MAP)
8:00 am to 5:00 pm (closed on Wednesdays)
Carbed- and caffeined-up, we got back on our bikes. Though the route to the Taisha is straightforward, it's hard to resist a few stops along the way. We collected snapshots under sakura trees in roadside parks, and our path also took us past Izumo Bunka Denshōkan, the Izumo Cultural Heritage Museum. The museum itself was unfortunately closed (as it is every Monday), but even when the buildings are closed, relaxing among the traditional architecture creates a quiet atmosphere. We also got to enjoy some of the unique features on the museum grounds.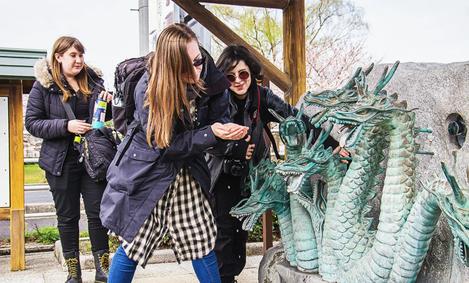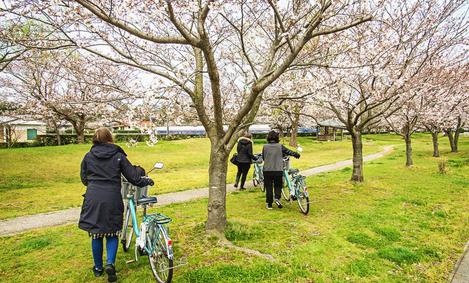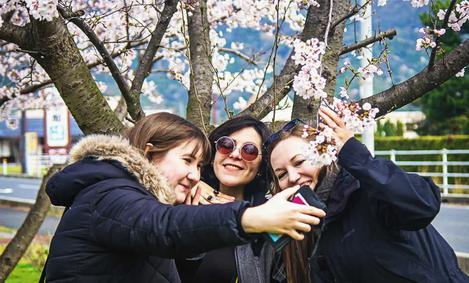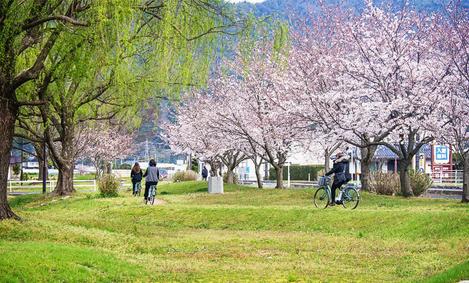 Camila: Even though I've been here countless times, this is the first time I noticed that the Orochi statue by the parking lot is actually a fountain!
Tanja: I loved the Orochi fountain at Denshōkan. It was at just the right spot along the journey to fill up my water bottle, and it's way better to get your water from the Orochi than just any old tap. On a hot day it's great for some splashing about!
Izumo Cultural Heritage Museum
Hama-chō 520, Izumo-shi, Shimane (MAP)
9am to 5pm (closed on Mondays, open on public holidays)
Related Contents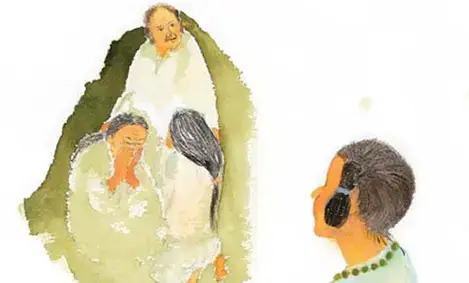 After our pit-stop at the Denshōkan's Orochi fountain, our next destination was -- finally -- Izumo Taisha Grand Shrine. Before approaching the main sanctuary where the principal buildings are, we took some extra time to explore the garden and pond near the entrance.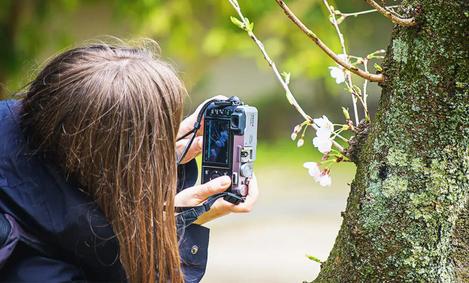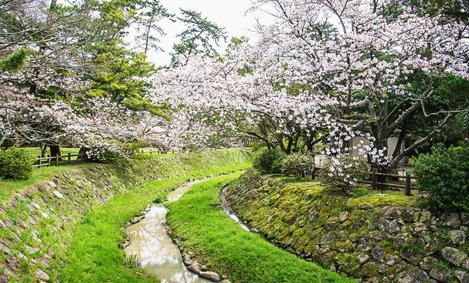 Jill: I had never seen the Taisha during sakura season before -- the pale pink is a natural complement to the green moss that sprouts on statues and tree trunks around. It felt like the embodiment of spring.
Even the koi in the pond seemed friendlier than usual.
We prepared our coins for offerings and proceeded to the shrines. After a refresher on the method for praying at Izumo Taisha (put your offering in the box, and then two bows, four claps, and one bow), we made the usual circuit. First we prayed at the haiden, then the enormous and obscured honden. Looping behind the honden, we took some extra time to appreciate the bunny statues, which seem to be revering the massive shrine before them.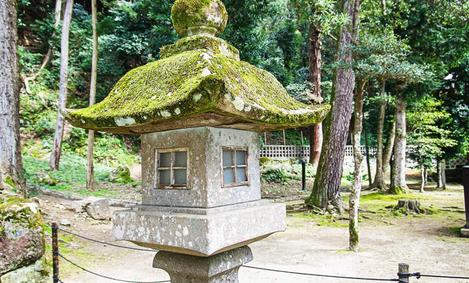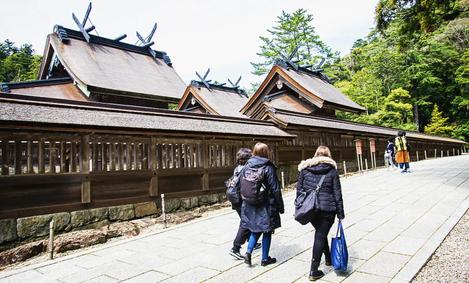 Jill: I always leave a coin offering for the bunny statues; after all, they may turn out to be gods themselves.
Finally, we visited the kaguraden, whose shimenawa is so large, standing under it is a little scary. As we held our breath wishing for it not to fall, a bride and groom in traditional kimono posed for wedding photographs just next to us. Izumo Taisha is not simply an exciting tourist destination -- it is a holy site with a deep significance, so much that people choose it as a site for celebrating important life events. Getting married at the Taisha shows reverence for the god enshrined there, Okuninushi no Okami, who is said to hold reign over human relationships. Prayers for romance and for prosperous business connections alike also draw many to visit the shrine.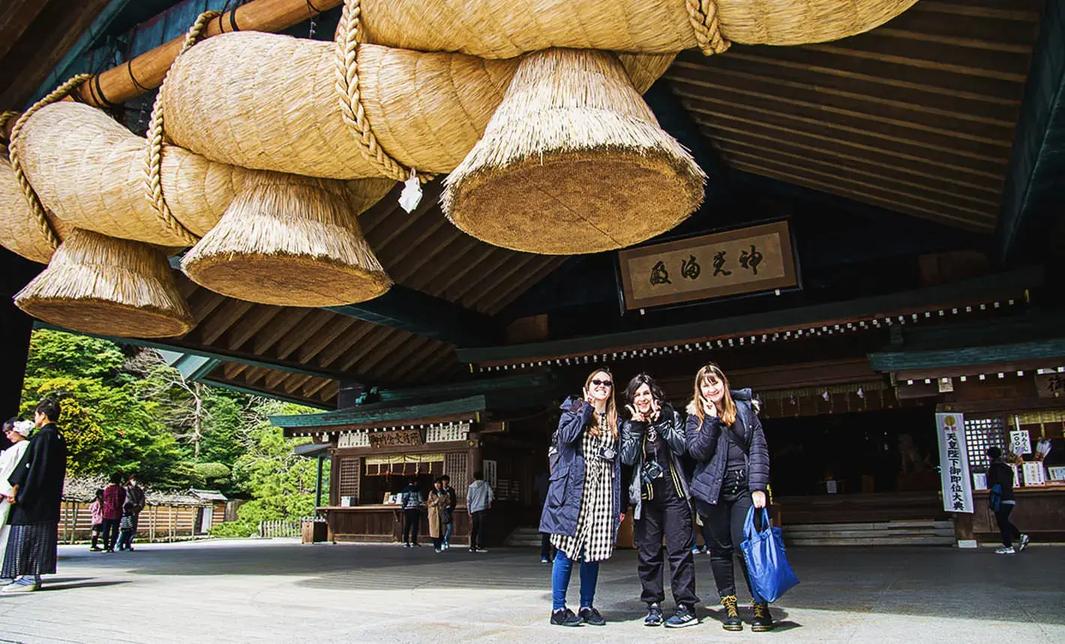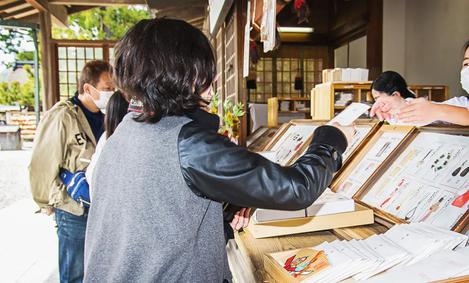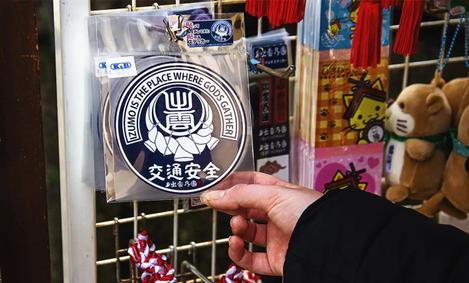 After visiting the main shrines of Izumo Taisha, we explored the walled path that extends east from the bronze torii. This brought us to Kitajima Kokusō-kan, a peculiar but beautiful shrine. Despite all the hallmarks of a Shinto worship space (a torii, shimenawa ropes, shide paper ornaments), this religious facility is not strictly Shinto itself. It is dedicated to Izumo-kyō, a Shinto-based religious organization that worships Okuninushi as its principal deity. The Kitajima family, who were Izumo's regional administrators in ancient times, manage the shrine and hold knowledge of the ancient rituals essential to the practice of this religion. You can offer a prayer at the shinden in the same way you would at Izumo Taisha (two bows, four claps, and one bow), and even peer directly into it, under the purple banner emblazoned with the Kitajima family's crest.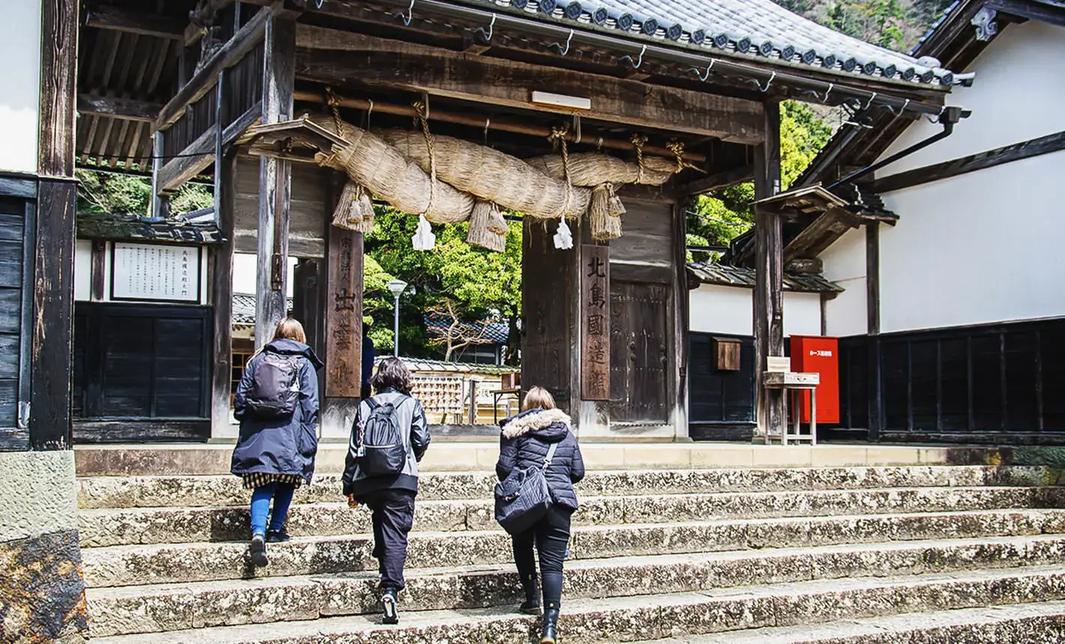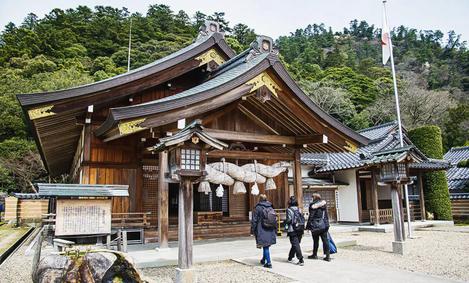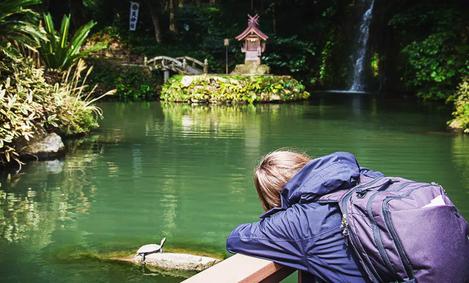 The garden at Kitajima Kokusō-kan is idyllic, featuring a heart-shaped pond under a natural waterfall and graceful arrangements of pines and palm trees. Two small wayside shrines sit on islands within the pond, accessible by arched footpaths. Many koi fish and turtles live in the pond, giving the waterfall its name, Kame no O no Taki: "the turtle-tail waterfall." When we approached, a turtle was sunning itself on a rock before the waterfall, looking almost proud, as if he knew that the waterfall behind him had his namesake. Given that Shinto and its related sects are animistic religions, it only felt right to spend a moment communing with the turtle and the natural beauty around him.
At lunch we headed over to Sanbe Burger to enjoy their tasty burgers made entirely from local ingredients. We all opted for their recommended Izumo Special, which is topped with creamy melted mozzarella and provolone, and complete with an Izumo-grown tomato slice. Crispy and golden-brown potato wedges complemented the juicy burgers. The portions are on the small side, so there's no shame in doubling up on potato fries or even getting another burger. You could also go for any number of Izumo soba shops for a traditional flavor, or just get something small from the several food vendors along the main street.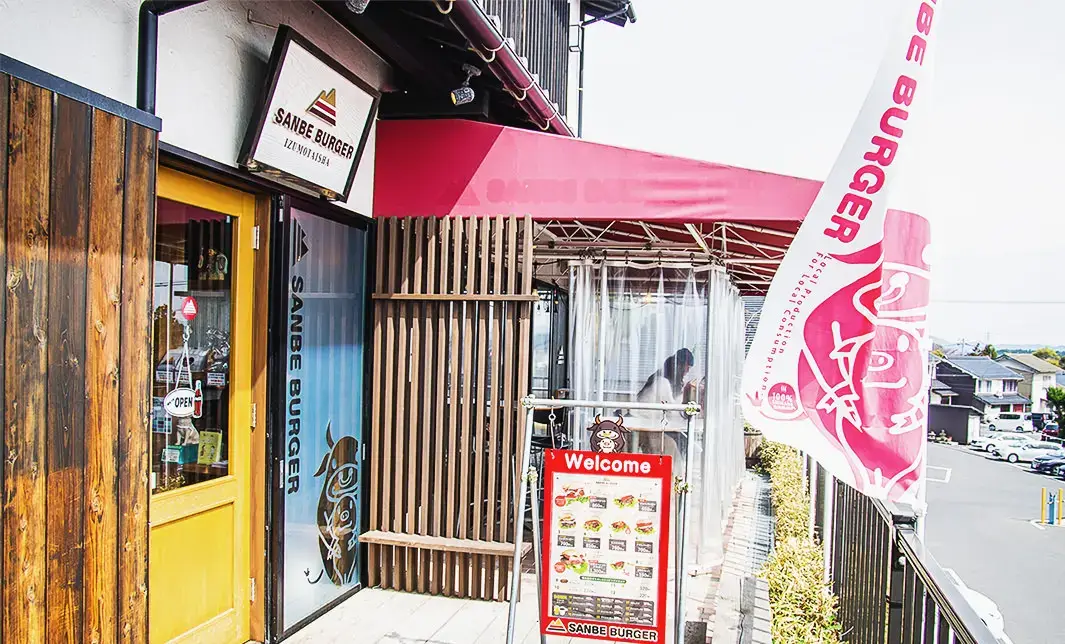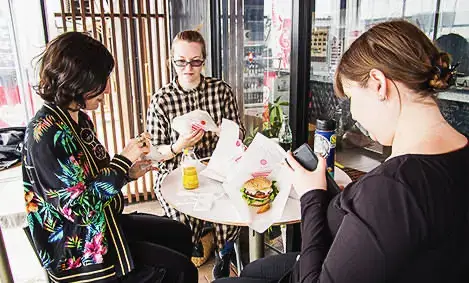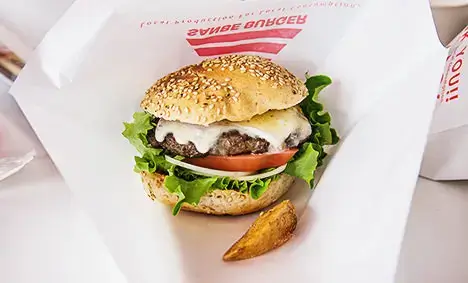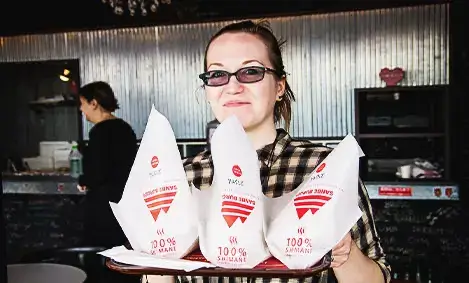 772 Kizukiminami, Taisha-chō, Izumo-shi, Shimane (MAP)
11am to 5pm (last order: 4:30pm)
Closed on Tuesdays, Wednesdays, and Thursdays.
For dessert, we went to the fairly new chocolate shop.
Tanja: It was my second time going in, and the first time buying something for myself. I got a chocolate coffee, and got hooked immediately. I usually don't like chocolate coffee because the chocolate mixed in tends to be overly sweet. This was not the case here. Both coffee and chocolate were mildly bitter, and the milk softened the flavor to lovely chocolate-y latte.
Camila: I love dark, bitter chocolate so I was very happy to see they had it on their menu. I bought a 70% cocoa bar and it was delicious and soft. I also bought their iced coffee, since the weather was getting warmer and we had to keep going on our journey. Waiting for hot coffee to cool down would take too much time, but I want to try it next time I stop there and enjoy it thoroughly.
765-1 Kizukiminami, Taisha-chō, Izumo-shi, Shimane (MAP)
After coffee we continued with a hands-on experience. The Negaibina Museum Izumono-En introduces negaibina, which are traditional hanging decorations. Negai means wish, and refers to the hina dolls of Hinamatsuri doll festival, so these are wishing dolls -- kinda like voodoo, but cute. We got to do our own cute voodoo by writing our wishes on slips of paper, and choosing a little rabbit to carry the wish. When selecting our rabbits, the staff offered some advice.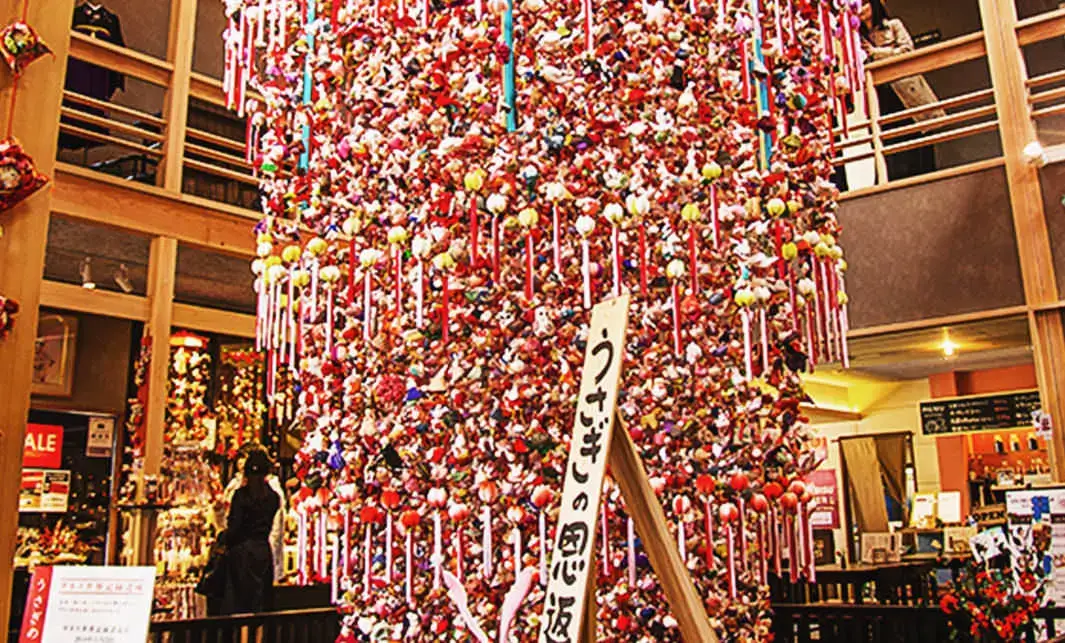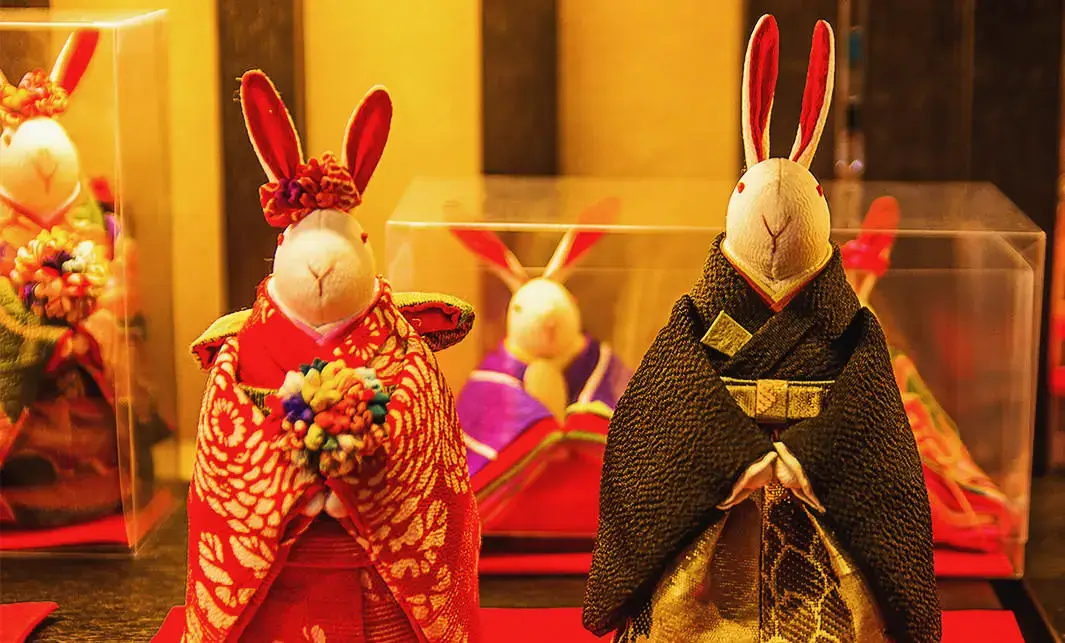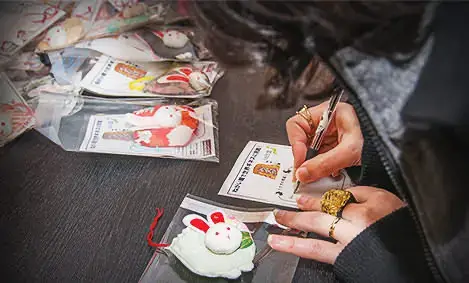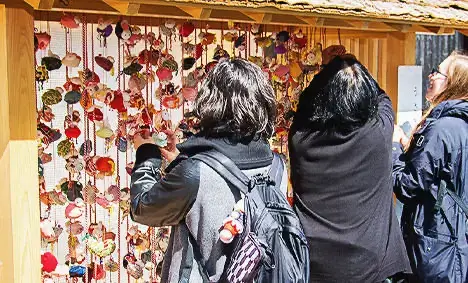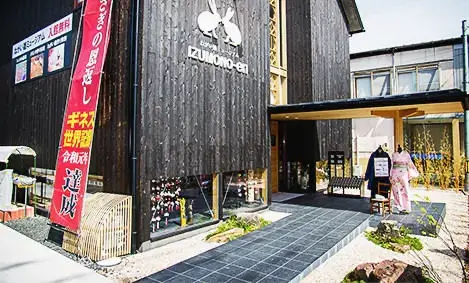 "Each has its own unique face, and the ears and clothes are different as well, so choose whichever speaks to you."
Jill: I fell in love with the troubled facial expression and nubby ears of the first rabbit I saw.
We put our wishes inside the dolls, and hung them on the wishing board in front of the museum. Now we wait...
Negaibina Museum IZUMONO-en
website
769 Babanishi, Kizukiminami, Taisha-chō, Izumo-shi, Shimane (MAP)
9:30am to 5pm (closed on Wednesdays)
Next, we hopped back on our bikes to go to Inasa no Hama, a beach northwest of Izumo Taisha. This is where the Ritual of Welcoming the Gods is held each year. To get there, we biked through a charming neighborhood with old, weathered houses lined with pots of flowers and tiny gardens. The roads are narrow, and homes are packed in together with little shops and commercial signs. We arrived at the top of a hill, and as we sped down, the buildings parted and the road opened to a clear view of the shore.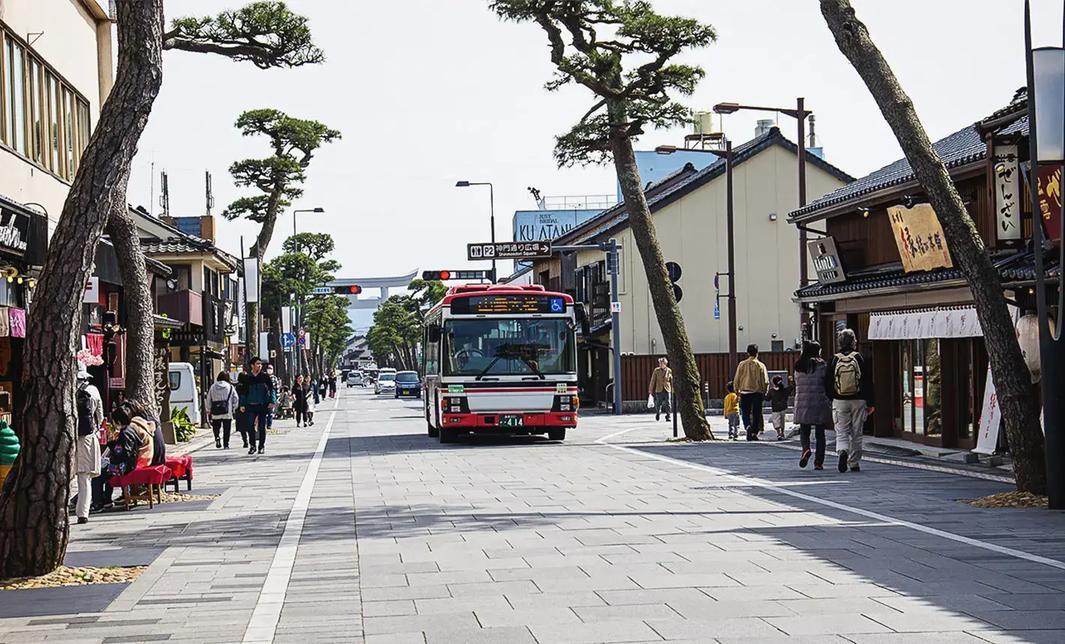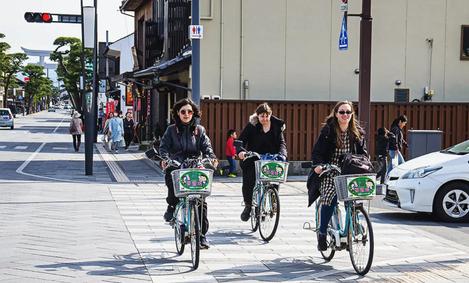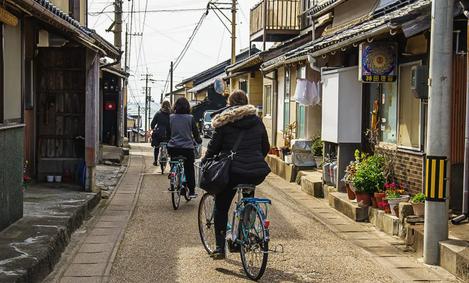 Just opposite of the pedestrian entrance to the beach is a sleek cafe called Izumo Amazake 173 (inasa) Coffee.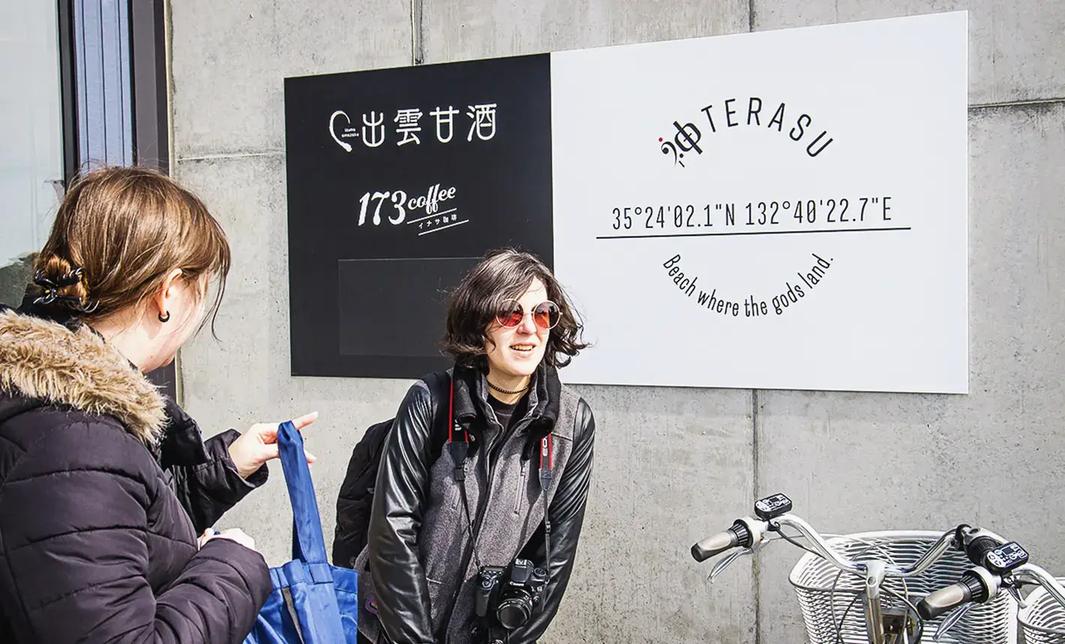 Camila: When I saw this new cafe by Inasa no Hama beach I got really excited, because I would finally have somewhere high to take pictures of the view!
Izumo Amazake 173 Coffee
2844-34 Kizukikita, Taisha-chō, Izumo-shi, Shimane (MAP)
The cafe sells a variety of drinks, some light cuisine, and an artisan salt called Kamishio, but they specialize in amazake.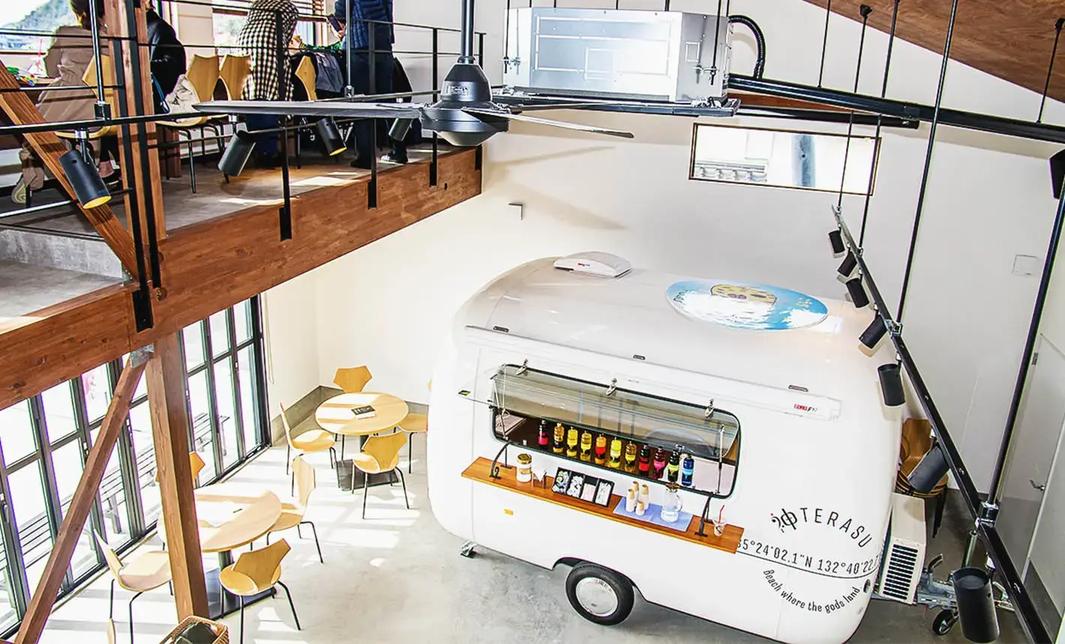 Tanja: I've had amazake before, but this was nothing like the hot amazake that warms you up on cold winter days.
They mix in different fruit syrups and serve it with ice, creating a refreshing version of the old-timey traditional drink. Amazake, despite being called sake, contains no alcohol. Instead it has loads of vitamin B as well as many other vitamins and minerals. In addition to being delicious, the drinks served here also boost your health.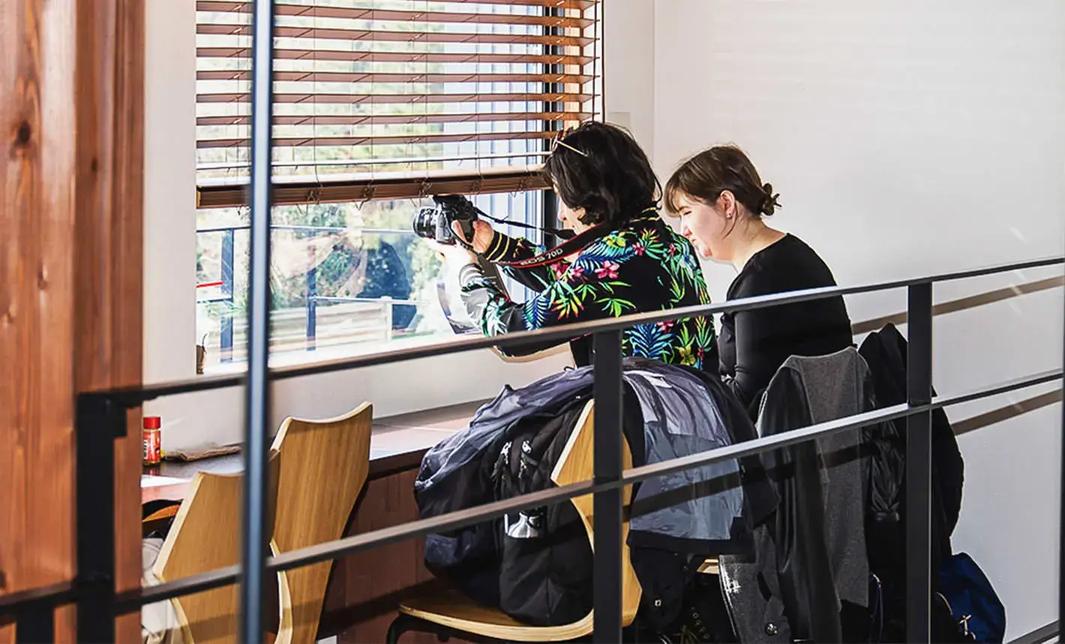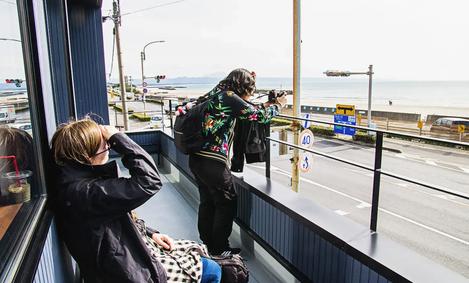 A metallic spiral staircase by the entrance of the cafe leads to a terrace where you can sit at an interior counter, or on benches outside. It's the perfect place to cool down, and there is a clear view of Bentenjima, a huge rock with a shrine on top that sits at the middle of the beach. This shrine is dedicated to the Shinto deity Toyatamahiko no Mikoto, divine spirit of the sea, and is part of the skyline that makes the view here so stunning.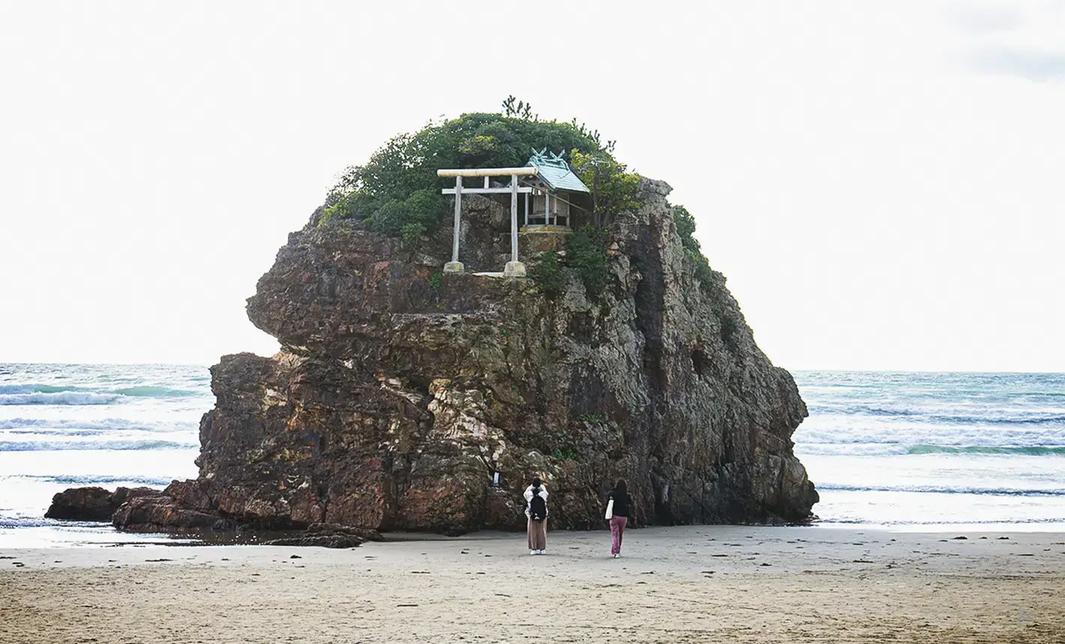 Our time was limited, so we didn't get to take a stroll on the beach or stay for the sunset. If your schedule allows, the sunset at Inasa no Hama Beach is a must -- this scenery is what gives Izumo the nickname "the sanctuary of the setting sun." But we had bicycles to return, and so set back towards the Taisha district for a final activity.
On the way, we passed the cat cafe AnimalLiving. They are a stellar example of proper animal care that you can feel good about supporting. Just outside of Shinmon Dori Street, the cafe is an unassuming white building with cartoonish pink signage. The cafe is operated by the NPO Enishi no Kai, and is a permanent home to two senior dogs. Most of the cats who live there are up for adoption. Posters supporting adoption and TNR (trap-neuter-return) programs line the walls, and a display of grinning photos attests to the cafe's success at adopting out pets to forever families. This cafe is a perfect place for animal lovers to relax before heading back to the station.
Jill: Since I can't keep pets in my apartment, I come here whenever I feel the need to hang out with cats -- which is quite often!
Our last stop was the ashiyu foot bath at Roadside Station Taisha Goen Hiroba, which includes an impressive souvenir shop called Izumo Bussankan, and a soba restaurant. The foot bath is free to use, and has a vending machine selling small towels for 100 yen nearby -- no need to fret about wet socks. A basket of cushions is set up next to the bath so you can sit comfortably. The warm water was a welcome relief after hours of biking.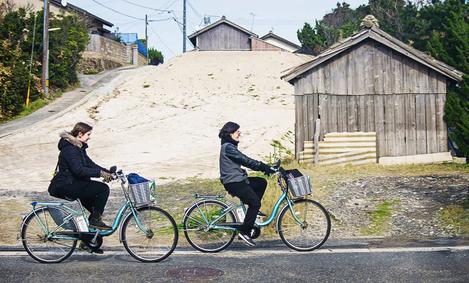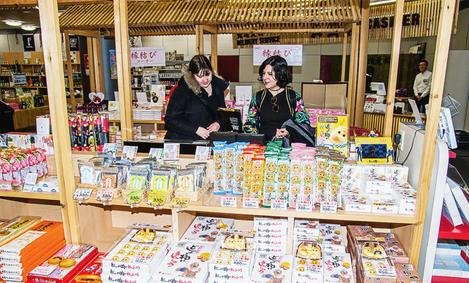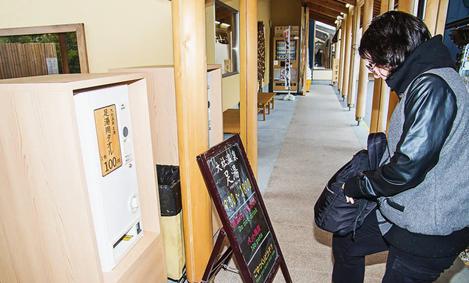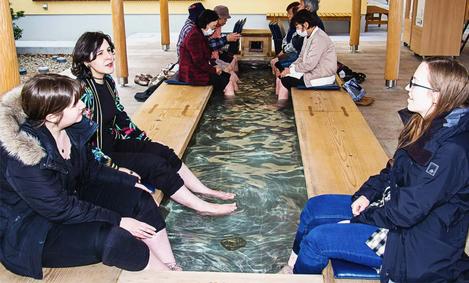 Camila: If it wasn't for the ashiyu, I don't think I would have made it back, really! My feet were tired from all the walking and biking, so having a foot bath to relax and recover energy was a real lifesaver.
Enjoying a moment of relaxation, we began to reflect on the day's activities, and discussed our excitement for sharing this route around the city with friends and family. Being able to explore so much with only the power of our own legs left a strong impression.
Roadside Station Taisha Goen Hiroba
website
735-5 Shurimen, Taisha-chō, Izumo-shi, Shimane (MAP)
We had a lovely day, and it was over too soon! In order to make it back to the bike rental by 6 p.m., we took the shortest route possible, through the cute little country roads in between paddy fields. We put on the electric assistance to speed up, and made it at 5:59 sharp.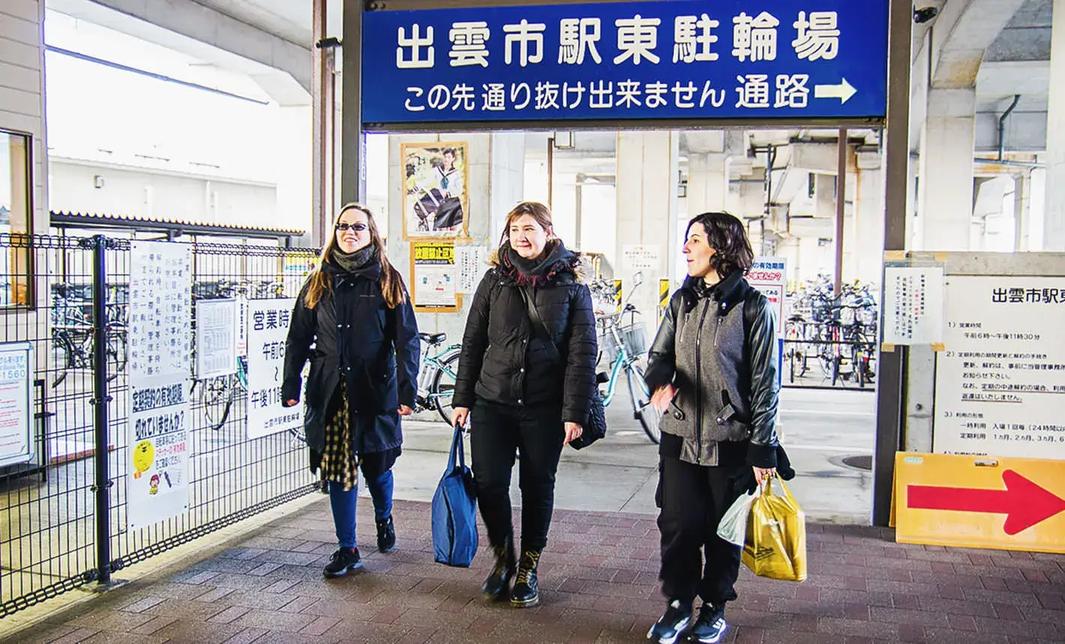 Tanja: The biking didn't feel heavy at any point, but we were all exhausted (and happy) at the end of our trip.
The time limit on the bikes didn't allow a stop for dinner, but there are plenty of pubs and restaurants nearby the station to have dinner afterwards. Come to think of it, that way you can enjoy a beer as well, and toast to your excellent day.
Purchases and Souvenirs
I got bread from Rhubarb for the next day, and at Taisha a keyring with the old timey kanji for Izumo for decorating my satchel backpack. I really like the design they made, they had T-shirts and other things as well with the emblem. I should have gotten the sticker for my suitcase as well, now I have to go back. The souvenir shop at the ashiyu had a T- shirt with bunnies and torii gate that I've been wanting for a while, so I got that. We got a box of cookies to bring to the office as well. Did a lot of shopping, now that I think of it. (Tanja)
Izumo Taisha Grand Shrine is well known for its blessings so I took the opportunity to buy an omamori, a good luck charm, for health and prayers to the gods. I know omamori usually are supposed to be carried with you, but I wanted to protect my house and family from diseases, so now it is hanging beautifully on my door. It is now also a reminder of the wonderful day we had.
The shop of course had other good luck charms and a variety of items I would like to buy, but this one will do for now (though I feel I should have got one for studies too...). I also treated myself with some sweets from Izumo Bussankan to have at home. (Camila)
I was reluctant to buy much of anything so that I wouldn't have too much luggage on my bike, but I regret it! It would have been perfect to get an enmusubi omamori, an amulet for good relationships, at the Taisha to mark the start of the fiscal year. There were so many precious ornaments at Negaibina Museum Izumono-en -- a set of the 12 animals of the Chinese zodiac, and a delicate mobile of camellia flowers both caught my eye. I didn't have the appetite for chocolate coffee after lunch, but after tasting Tanja's, I know I need to make a trip back for some. Other than a souvenir box of cookies for my coworkers, I came home empty-handed, but with the perfect spots in mind for the next time I need a gift or to treat myself. (Jill)
Advice and Summary
The electric assist feature will make it easier, but spending a day biking around the city is still a physically taxing activity. Be sure to dress in light layers to protect you from the wind, and bring plenty of water to stay hydrated in the spring sun. Leave ample space in your schedule to make it back to the station on time, and to take breaks. We also recommend that you check a "sakura forecast" to find out the best time to see Izumo's cherry blossoms in full bloom, and double-check that the restaurants, cafes, and shops you want to visit are open on the day of your journey. And finally, please bike safely, paying attention to road signs and to other vehicles at all times.
We also made a video about our bike trip! Check out the link below to see another angle of our journey to Izumo Taisha.
Camila Iquiene

Jill Adams

Tanja Severikangas